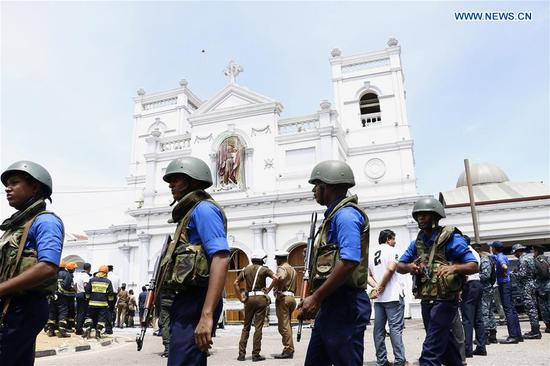 Security staff stand on guard outside the St. Anthony's Church where a blast took place in Colombo, Sri Lanka, April 21, 2019. (Xinhua/A.Hapuarachchi)
China will continue to closely monitor the developments in Sri Lanka and coordinate with relevant departments to ensure the safety of Chinese institutions and nationals, said Geng Shuang, a spokesperson for the Chinese Foreign Ministry, on Monday during a regular press conference.
A series of blasts rocked Sri Lanka on Sunday during the Easter mass, killing over 290 people and injuring 500 others.
Soon after the blasts the Chinese Embassy in Sri Lanka activated the emergency response mechanism, verified Chinese casualties, and spared no efforts in the rescue of missing people, Geng said.
Five Chinese nationals, who were injured in the blasts, are in stable condition and the embassy staff is visiting them, he said, adding that Chinese nationals calling the embassy helpline should seek consular protection.
On Sunday, Chinese President Xi Jinping sent a message of condolence to his Sri Lankan counterpart Maithripala Sirisena over the loss. In his letter, Xi mourned the dead and expressed heartfelt sympathies to the bereaved families of the victims.
Chinese Premier Li Keqiang on the same day also sent a message of condolence to Sri Lankan Prime Minister Ranil Wickremesinghe.