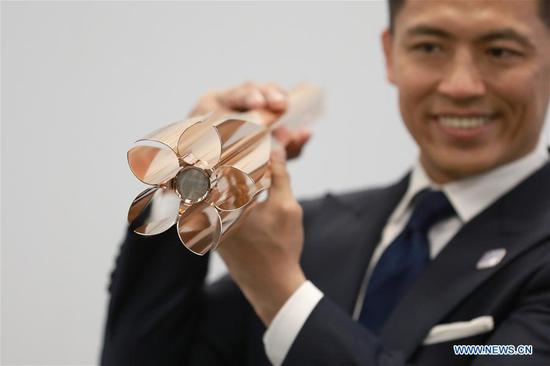 Tokyo 2020 Torch Relay Ambassador, Japanese athlete Tadahiro Nomura shows the design of the Tokyo 2020 Olympic Torch in Tokyo, Japan, on March 20, 2019. (Photo/Xinhua)
Organizers for the 2020 Tokyo Olympic and Paralympic Games said Thursday that a ticket lottery application process for residents of Japan will open on May 9.
The organizing committee for the quadrennial sporting event has set prices for tickets so that most budgets can be catered to, with the cheapest tickets starting from 2,500 yen (22 US dollars).
The registration period for the lottery will end on May 28, organizers said, with the results being announced on June 20.
Japan has attempted to quash attempts by ticket touts to sell tickets at inflated prices by enacting a law banning scalping, which will take effect from June 14.
From late 2019 onwards, people unsuccessful in the lottery will be able to try to secure tickets on a first-come, first served basis, the organization said.
The organization has yet to launch an English-language version of its pre-registration website, but said those outside of Japan should try to obtain tickets through authorized ticketing agencies and resellers.