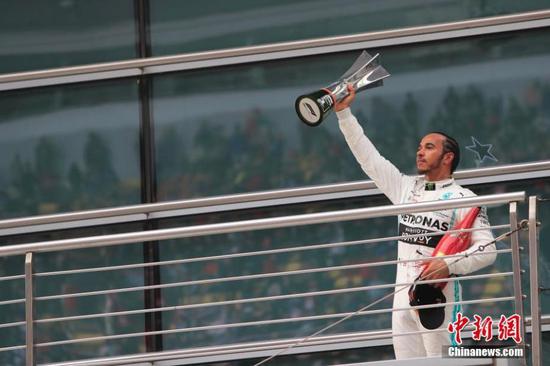 Mercedes driver Lewis Hamilton of Britain celebrates on the podium after winning the Chinese Formula One Grand Prix at the Shanghai International Circuit in Shanghai, China, April 14, 2019. (Photo: China News Service/Yin Liqun)
F1 looking at ways to revamp its image, keep abreast of newest technologies to attract younger fans
All tickets for this weekend's Chinese Grand Prix - the F1 circuit's landmark 1,000th race - were sold out, but the three-day event at Shanghai International Circuit barely made a blip on Chinese social media.
More than a dozen years after Michael Schumacher captured his last career victory at the 2006 Chinese GP, F1's official Weibo account had attracted only about 40,000 fans as of Saturday night - a far cry from the 40 million following the NBA.
While it's unfair to only use the developing Chinese market as an example, the evidence suggests F1 needs to change with the times if it hopes to attract a larger and younger global fanbase.
A history of embracing cutting-edge technology should have guaranteed F1's long-term status as the coolest and fastest motor sport, but the emergence of driverless vehicles and electric-powered Formula E racing have stolen some of the shine from traditional F1.
"I think racing as a culture will persist forever because we all grow up with the instinct to race," said Julian Tan, head of growth for F1 E-sports, who believes F1 will keep up through innovations such as incorporating e-sports simulators to guarantee a better future for the sport.
"I think the form of racing and how it will look is difficult to say, but Formula One will continue to be at the pinnacle because of its ability to tap into the latest technologies. Being the fastest sport in the world is in our blood."
For racers, it can grow in any direction - apart from being "driverless".
"Technology is developing at a scary rate these days, so I really hope that going forward we will still have the drivers and that they are able to have as much fun as we do because I think things are going to change massively," said Sergio Perez of the Racing Point F1 team.
"Obviously things will change and be very different. I think there will probably be an electric version of F1 in a couple of years... I hope in many more years.
"But the drivers will always be important."
World champion Kimi Raikkonen, the 39-year-old F1 legend who is the only driver to take checkered flags in the V10, V8 and the hybrid V6 engine eras, believes F1 will survive while adapting to the new technologies
"It's impossible to know what will happen, but I'm sure there will probably be racing, some sort of racing, but who knows what kind?" said Raikkonen, who now drives for Alfa Romeo Racing.
"It's been 1,000 races for F1, so I don't think it's suddenly just going to disappear."
With F1's current covenants expiring at the end of next year, the sport's bosses presented their visions for 2021 and beyond to team principals and members of F1's Strategy Group and the F1 Commission at a summit last month at the London headquarters of Liberty Media, the sport's commercial rights holder.
One of the goals is to make F1 more affordable for teams and fans while delivering an improved on-track show through the reduction of unnecessary costs and elimination of technologies that impede close racing.
"I think this is the start of the discussion and we've got some more clarity," Team Ferrari principal Mattia Binotto said in Shanghai.
"I think it's important to collaborate and to be open with each other,"
"We've got common objectives and I'm pretty sure that we will find the right compromise, as we did for the power unit.
"I think we reached a common good result, which almost everybody was happy with. It's the same for revenues and governance, the budget cap, all the technical matters.
"It's an ongoing discussion, but that's what collaboration requires. I'm pretty sure that in the end we will find the right compromises."