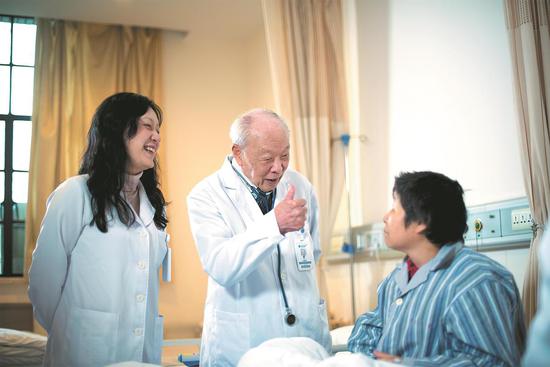 Professor Wang Zhenyi visits a patient with a colleague at Ruijin Hospital in Shanghai. (Provided to China Daily)
His dedication led him to discover a drug to cure an aggressive form of the cancer
Every Thursday, 95-year-old Wang Zhenyi hosts a discussion session with young doctors to find solutions for complicated medical cases. Wang, a pioneering expert in hemopathology and a tenured professor at Ruijin Hospital affiliated with the Shanghai Jiao Tong University's School of Medicine, has been doing this for 16 years in order to nurture more medical talent.
With over 70 years of experience in the hemopathology field, Wang was among the first academicians at the Chinese Academy of Engineering, and the recipient of the country's highest award in science and technology in 2010.
He is best known for saving the lives of patients suffering from acute promyelocytic leukemia, also known as M3. It is the most aggressive form of leukemia with the highest fatality rate. If not treated in time, 90 percent of patients die within six months, with some patients living not more than three days after diagnosis.
The first medical breakthrough in the field was made by Wang's team after eight years of research in 1986, when they made a drug to cure acute promyelocytic leukemia.
Wang recalled that chemotherapy was the main treatment for M3 practiced by doctors across the world years ago. However, the five-year survival rate after chemotherapy was only 10 to 15 percent.
During his research on M3 in 1978, Wang happened to read a research paper about Israeli experts successfully testing the cellular differentiation of leukemia cells into normal cells in mice-a process where a cell changes from one cell type to another under certain circumstances. This paper inspired Wang to research on the circumstances, in which leukemia cells can become normal.
Since then, he started research on the topic, and studying the induction and differentiation of leukemia cells.
The research hardly achieved any progress until 1983, when Wang was inspired by another research paper which mentioned that white blood cells of patients with M3 can turn into normal cells with 13-cis-retinoic acid.
However, no manufacturer in China could produce a drug with that ingredient, as it was really expensive to import 13-cis-retinoic acid.
Wang's team then decided to replace that ingredient with alltrans retinoic acid produced by the Shanghai No 6 Pharmaceutical Factory and later verified that it was capable of inducing M3 cells to differentiate into normal cells.
The research results were published in the world's top hematology journal Blood in 1988.
"The result finally gained international recognition since then," Wang said.
However, Wang has yet to apply for a patent for this discovery till this day, in a bid to make the medicine affordable to all patients with acute promyelocytic leukemia. A box of these small yellow pills used to cost 11 yuan 30 years ago. Currently, it costs 290 yuan ($43) and can be reimbursed via the national health insurance. The five-year survival rate of patients has also improved to over 97 percent.
A woman from the United States once wrote a letter to Wang to express her gratitude and also attached photos of her two newborns after recovering from the cancer.
The treatment was honored as a significant discovery in the medical field worldwide and it was also a great example of applying basic research results on the disease in clinical application, according to a comment made by international cancer experts on Wang's cancer research on the Shanghai Jiao Tong University website.
Born in Shanghai, Wang's pursuit of medical knowledge began when his grandmother died of typhoid fever when he was 7. "The underdeveloped medicine could not free her from disease, and that's when I decided to become a doctor to cure more people," Wang said.
He studied medicine at Aurora University (Shanghai) in 1942. After graduation in 1948, he worked in hemopathology at Guangci hospital, which is known as Ruijin Hospital today.
Wang has also served as a lecturer at Shanghai Jiao Tong University, teaching internal medicine, hematology and pathophysiology to 21 doctoral students and 34 postgraduate students.
Chen Guoqiang, chancellor of the medical school, was a student of Wang's when he was studying for his master's degree in hematology at Ruijin over 30 years ago.
He said it was his tutor's supervision and encouragement that fostered his career in medicine.
Wang's dedication to medicine even inspired his three sons, all of whom are working in the medical field. "I've been focusing on one disease-leukemia-all my life, but there are many other diseases that still require medical research by young practitioners," he said.
As the medical industry advances with economics and technology, Wang reinforces the critical value of medical ethics in the industry.
"One cannot be a real doctor if one does not possess expertise in medicine," Wang said. "However, without a kind heart, a skilled doctor may cause harm to patients."