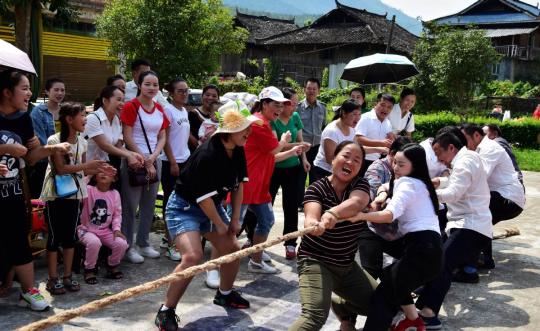 Members of staff join in a tug-of-war in Congjiang county, Guizhou province. (Luo Jinglai / For China Daily)
Schools are taking measures to reduce teachers' paperwork and help them deal with work pressures.
Tian Bingbing, principal of Chunhui Primary School in Hangzhou, capital of Zhejiang province, said piles of paperwork have created problems for schools when it comes to recruiting and retaining teachers, because many candidates are wary of the toll that the paperwork burden will take on them.
To tackle the problem, the school has introduced policies to free teachers from excessive paperwork, she said.
The school has sought to identify tasks that are unnecessary, overly complex or duplicative, with the aim of redesigning its processes and reducing the workload, thereby easing the burden of compliance and administration on teachers, Tian said.
She added that teachers at the school do not have to fill out unnecessary forms or take notes and write reports after training sessions.
Teachers should keep their notices on parent-teacher WeChat groups short and informative, and they do not need to reply to parents' messages in the group between 9 pm and 8 am, Tian said.
Teachers at a school in Shijiazhuang, Hebei province, take part in communal activities. (Jia Minjie / For China Daily)
The school has also made sure that teachers have at least one hour of physical exercise and one hour in reading groups every week, and it has also organized online and offline training classes to allow teachers to learn from the best educators in the country.
"We encourage teachers to submit short course plans and work together for course design so that they each need only handle a small part of the course preparation," Tian said.
Zhou Xi, a middle school teacher in Yueyang, Hunan province, said his school now accepts both digital and handwritten course plans, which has greatly reduced his workload.
In addition to efforts by the schools, students can also be of great help in alleviating the pressures on their teachers, he said.
"On my birthday last year, the class held a surprise party for me. Listening to dozens of students sing Happy Birthday and receiving handmade gifts from them made all the hard work worthwhile," he said.
"We became teachers to make a difference to children, who are the future of the country. Our time should be spent helping the students grow into better people, not on useless paperwork."