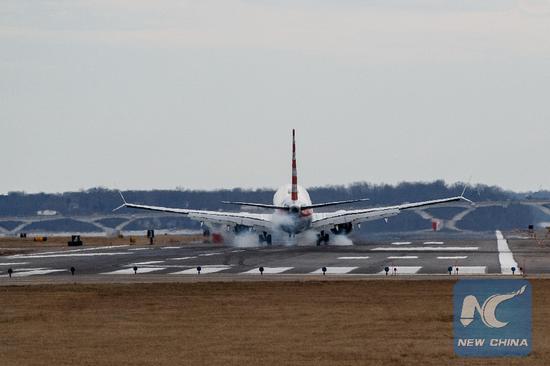 An American Airlines Boeing 737 Max 8 aircraft from Los Angeles lands at Washington Reagan National Airport in Washington D.C., the United States on March 13, 2019. (Xinhua/Ting Shen)
The U.S. Department of Transportation (DOT) is investigating the Federal Aviation Administration (FAA) for its approval of Boeing 737 MAX, two of which have crashed.
According to the Wall Street Journal Sunday, the DOT's Inspector General is looking into whether the FAA used appropriate design standards and engineering analysis in certifying the anti-stall system, known as MCAS, which is suspected of playing a role in the recent crashes.
An earlier report on Sunday by the Seattle Times said analysis on the MCAS system, largely conducted by Boeing itself, was flawed.
The report identified several flaws with the assessment, including understating the power of the new flight control system, failing to account for how the system could reset itself each time a pilot responded, and assessing a failure of the system as one level below "catastrophic."
The Seattle Times said it reached out to the FAA and Boeing with the details of the report prior to the Ethiopian Air crash.
Boeing Chief Executive Dennis Muilenburg said in a statement Sunday the company continues to support the Ethiopian investigation, "and is working with the authorities to evaluate new information as it becomes available."
The latest revelations put a spotlight on whether the Boeing 737 MAX underwent proper assessment prior to obtaining a green light to market, and the FAA's practice of delineating the responsibility of assessing a new model to the aircraft manufacturer.
The U.S. Congress is expected to hold hearings to investigate the details surrounding the crashes.
An Ethiopian Airlines plane en route from Addis Ababa to Nairobi, Kenya, crashed on March 10, killing all 157 people aboard. A Lion Air crash in October in Indonesia killed all 189 people on board. Both were Boeing 737 Max 8 aircraft and investigations showed that circumstances surrounding both crashes had alarming similarities.