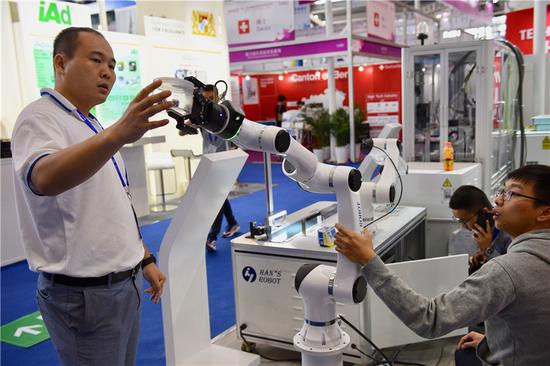 A Han's Laser Tech executive displays a robotic arm at the 20th China High-Tech Fair in Shenzhen, Guangdong province, in November 2018. (Photo provided to China Daily)
Nearly 30 percent foreign stake in Han's Laser Tech sparks talk ceiling may be raised
Fresh signs have emerged that foreign institutional investors' appetite for China's A shares may be growing, and that they may expect further glad tidings from regulators, market insiders said.
They said foreign stake in Han's Laser Technology Industry Group Co Ltd almost reaching the upper limit of 30 percent on March 5 augurs well - that's because the market regulator may well consider raising the existing cap.
On March 11, Yan Qingmin, vice-chairman of the China Securities Regulatory Commission, told reporters the top securities regulator will study plans to continuously raise the foreign ownership cap and further open up the capital market, in line with the nation's ongoing deepening of the reform and opening-up policy.
In recent years, China's capital market has seen introduction of stock connects linking bourses in Shanghai, Shenzhen and Hong Kong, with plans under way to add London to the network, all to improve access to foreign investors.
For its part, MSCI will continue to raise weighting of A shares in its various indexes, most notably the emerging markets gauge. Analysts said the move would funnel nearly $70 billion in fresh overseas capital into mainland-listed stocks.
On March 5, overseas investors' buy orders in Shenzhen-listed Han's Laser Technology, a laser equipment manufacturer, were halted after offshore ownership neared the 30-percent regulatory ceiling.
In a statement after market close that day, the company said the bourse halted buy orders for its shares under the Shenzhen-Hong Kong Stock Connect as offshore investors' holdings topped 28 percent. Sell orders would still be received, it said.
Han's Laser's shares rose 4.5 percent to 44.17 yuan ($6.57) on March 6; but by Friday, they retreated to 42.16 yuan.
As per Chinese regulations, as soon as overseas ownership in a mainland-listed company exceeds 28 percent, buy orders from Hong Kong are halted. Sell orders, however, can continue. Buy orders are allowed to resume only after overseas ownership falls below 26 percent.
So far, only one other mainland-listed stock has seen overseas ownership reach the upper limit - Shanghai International Airport Co Ltd, in May 2015.
With market mood brightening now, insiders expect several more A shares to attract increasing foreign investments.
Among the favorites are home appliances maker Midea Group Co Ltd and third-party testing agency Centre Testing International Group Co Ltd, said Wang Hanfeng, chief strategy analyst from Beijing-headquartered China International Capital Corp.
"Shares with rather high foreign ownership have notably outperformed the market in the long run."
Wang expects foreign investors to become the largest group of institutional investors in the A-share market over the next 10 years. "This will make research-driven long-term investments with focus on companies' fundamentals more prevalent in the Chinese market.
"Foreign investors prefer to buy shares of top players with solid fundamentals that are related to China's consumption and industrial upgrades. Such shares also deserve domestic investors' continuous attention."
On March 6, global index compiler MSCI Inc announced it will delete Han's Laser from its global indexes effective March 11, "in light of potential investability issue".
Weighting of Midea Group Co Ltd was also reduced as foreign ownership in it was very close to the 28-percent upper limit.
Zhang Xia, chief strategy analyst at Shenzhen-based China Merchants Securities, said the foreign ownership cap is not likely to impede the overall implementation of MSCI's plan to increase weighting of Chinese stocks.
Zhang said: "At present, only a limited number of stocks have foreign ownership approaching the cap.
"Nevertheless, the ownership cap may be eased in the future, given China's commitment to deepening opening-up and the experiences of overseas markets."
Agreed Bao Ting, an analyst with Shenzhen-based Great Wall Securities. She said that after South Korea removed the foreign ownership cap imposed on listed companies in 1998, its stock market was totally included in MSCI indexes.
Bao further said shares included in MSCI indexes and held by foreign capital mainly abound in financial and consumer sectors at present.
"Tech and growth enterprises may attract more attention from foreign investors than before this year, given MSCI's plan to add mid-cap and ChiNext shares in its indexes and China's great emphasis on technological innovation."