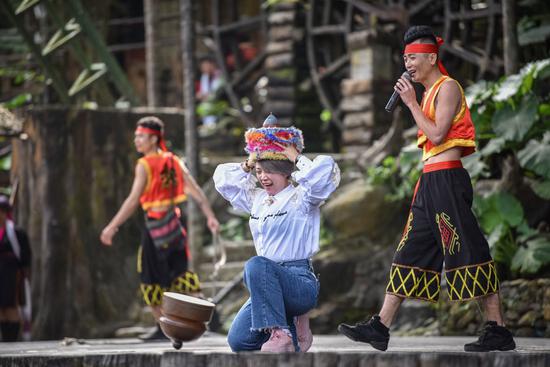 A visitor participates in a performance featuring customs of the Li and Miao ethnic groups in Hainan province in January. (Photo: For China Daily/Yuan Chen)
Plans are underway to give Hainan's tourism infrastructure and services a solid boost, with construction of highways and expressways to be started or completed this year, according to local authorities.
Work on one of the major projects, a scenic highway around the island, has been approved to begin in May, aiming to fully integrate local tourism resources as well as enhancing local social and economic development.
The route, called Hainan Highway 1 by local media, will be longer than California's coastal Highway 1 and will provide similar breathing-taking views. One-fifth - or 208 kilometers - will stretch along the sea, and other parts will pass by cliffs, wetlands, dunes, grasslands, farmlands and forests.
The road, to be completed in three to five years, is part of the plans to develop Hainan into a globally influential tourism and consumption destination by 2035.
More than 76 million domestic and overseas tourists visited the island province in 2018, up 11.8 percent year-on-year, and local tourism revenue grew 14.5 percent over the previous year to more than 95 billion yuan ($14 billion), data from the Hainan tourism authority showed.
The two-lane highway, which will link with 6,000 km of existing roads in 12 coastal cities and counties, will create a 1,040-km loop around the island province, where about 50 world-class tourists stations will be built, according to the Hainan Provincial Development and Reform Commission.
It will be supported by 5G technology, GPS positioning and big data, for intelligent management and real-time monitoring, and will include pilot projects for driverless vehicles and vehicle charging, according to the highway plan.
Wu Gang, of the provincial Department of Natural Resources and Planning, said preparations are being made and bidding invitations will be sent out in the latter half of this year to world-leading designers of tourism stations.
"Each station itself will be a unique scenic spot," said Sun Ying, director of the provincial tourism authority.
Hainan has also issued a plan to boost trailer travel business and plans to introduce various tourism routes and build 70 campsites this year.
Lin Dong, director of the provincial Transportation Department, said care will be given to preserve local conditions, including the mountains and plant life, during the highway construction work.
"Development of the tourism highway will help explore local tourism resources, especially those in the western parts of the province, and promote integrated growth of travel economy, which is currently somewhat fragmented on the island," said Xia Feng, a researcher at the China Institute for Reform and Development.
Xia suggested Hainan cultivate more diversified and internationalized tourism products to boost tourism. Studies have found that per-tourist spending in Hainan was only 1200 yuan, about 20 percent of that in Hong Kong, he said.
"The around-the-island highway will help upgrade Hainan's tourism industry," said Xie Xiangxiang, an associate professor of tourism at Hainan University.
He suggested that the tourist stations provide rich displays of local ethnic products and culture, and offer a deeply local experience that will lure visitors.
"A bicycle lane and walkway would also be welcome along the highway to meet people's interest exploring the tropical island," Xie said.
Meanwhile, a 1,160-km expressway network around and across the island is also being upgraded and extended, and more international air routes and sea routes are gradually being opened to link Hainan, China's largest free trade zone, with the outside world.
Hainan opened its loop of high-speed trains in 2015, the first in the world traveling at speeds higher than 200 km per hour and completing the 653-km island loop - roughly the same distance as circling Belgium - in about three hours.