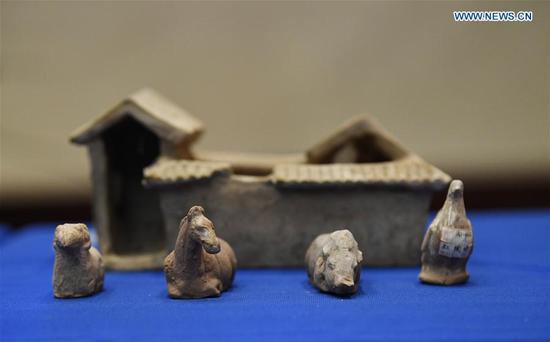 Relics exhibited during a repatriation event held in the Eiteljorg Museum of Indianapolis, Indiana, Feb. 28, 2019. /Xinhua Photo
The U.S. has returned 361 pieces of cultural relics and artworks to China. The National Cultural Heritage Administration and U.S. Federal Bureau of Investigation signed an agreement Thursday in Indianapolis, Indiana.
This marks the third time such artifacts are returned from the U.S. to China since 2009 when the two countries signed a memorandum of understanding to restrict importation of Chinese relics to the U.S. It is also the largest return to date.
The return includes items dating from the Neolithic Age (3900-1700 BC) to the Qing Dynasty (1644-1911). Among the haul are items used in burial ceremonies in ancient China, including stone tools, jade ware, bronze ware, pottery, coins, and wooden architectural components.
The National Cultural Heritage Administration actively organizes experts to carry out appraisals. It works with the U.S to respect various international conventions in an effort to promote returns.
About 4,000 pieces of lost Chinese cultural relics have been returned to China in recent years thanks to the National Cultural Heritage Administration.
One Chinese official said these items are an integral part of the country's cultural heritage.
"You have shown the best virtue of integrity of the American people," said Li Kexin, minister at the Chinese Embassy to the U.S, according to Xinhua.
"I believe this must have been done with tremendous efforts, for its scale and complexity," he said.
"This repatriation is a good example and a gift to the 40th anniversary of the diplomatic relations between China and the United States. I believe it will resonate very positively in China," he added.