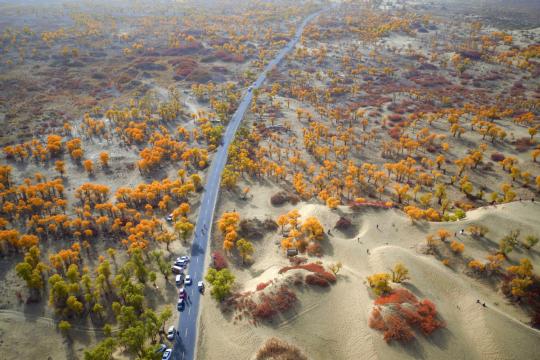 Poplar trees and shrubs turn gold and red in fall in the Tarim basin, Xinjiang Uygur autonomous region. (QUE HURE/FOR CHINA DAILY)
Botanist dedicates his life to search for seedlings in arid areas to curb desertification
To curb the expansion of the Gobi Desert in the center of the Xinjiang Uygur autonomous region, botanists have been searching for and collecting seedlings of drought-resistant plants at home and abroad to try to cultivate them in arid areas.
Pan Borong, a researcher from the Chinese Academy of Sciences' Xinjiang Institute of Ecology and Geography, is one of them. He has tried to find an ecological way to curb the region's desertification for the past four decades, and is still working at the age of 72.
In November, Pan received a lifetime achievement reward from the Botanical Society of China, a nonprofit organization, for his contribution to plant science.
The Tianjin resident graduated from Xinjiang Agricultural University in 1969. Through his team's efforts, the Turpan Desert Botanical Garden - the country's biggest desert botanical garden, established in 1976 - now contains more than 700 species of drought-resistant plants.
"The weather in Turpan is extremely hot, with rampant sandstorms and a huge shortage of water," Pan said. "So if a plant survives here, then it can thrive anywhere. We aim to build a 'plant bank'."
His team first visited Turpan in 1972 to begin its research. During the early years, members lived in houses without windows. Only plastic sheets helped provide shelter from the sand and wind. But the wind always broke the plastic sheets, and sand was everywhere - in the room and in their clothes and mouths.
However, their journeys in search of seedlings in desert areas, where plants were sparsely scattered, were even more difficult.
Transportation was not convenient in the early 1970s and it took the team several days to get to one destination. Since it was quite a long way from the desert areas where they collected seeds to the hostel where they lived, they usually missed lunch. To avoid missing meal times, they sometimes swam across the river to avoid taking the long way home.
"The most delicious meal for us at the hostel was boiled cabbage with several drops of oil in it, fried potatoes and steamed cornbread," Pan said.
In October 1980, Pan broke his back in a car accident while he was on his way to do a survey in the Ili Kazakh autonomous prefecture. He stayed in hospital for nine months after two operations. Despite the potential risks and objections from his family, Pan still went back to surveying the deserts with his team to look for plants.
Their research has covered regions in Xinjiang including the Junggar and Tarim basins, the Kunlun Mountains and the Taklimakan Desert, as well as countries including Russia, Kazakhstan, Libya and Syria.
Obtaining the seedlings does not guarantee survival of the plant. Harsh weather conditions, poor soil quality and the lack of water have led to "countless" failures in the sapling nursery and planting trials.
"We had to collect new seeds again and again after they died," Pan said.
The Turpan garden has cultivated 60 percent of the drought-resistant plants in China, and has introduced about 400 species from abroad. It is also a tourist destination and ecological education base.
"Plants like Calligonum mongolicum have grown into large shrubs and can be the green barrier to stop sand drifts," he said.
Hong Deyuan, a CAS botanist, said the plant bank at the Turpan Desert Botanical Garden holds large amounts of rare drought-resistant plants and plants from Central Asia, and has great value in boosting sustainable desert area development in China.
When Pan is asked what his favorite plant is, he answers those growing in deserts which he has researched before.
"These plants bring both environmental and economic benefits, making people's living environment better," Pan said.
"No matter how tough the experiences are, it is always well worth the effort."