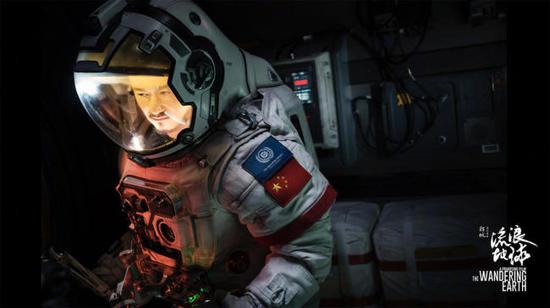 Screen grab of Wu Jing in "The Wandering Earth." (Movie poster)
Chinese sci-fi blockbuster "The Wandering Earth" has taken second place in China's all-time box office as of Sunday afternoon, according to Maoyan, a professional box office tracker.
The film, released on Feb. 5, earned over 3.7 billion yuan (about 547 million U.S. dollars) as of 4:00 p.m. Saturday, surpassing Operation Red Sea to become the second most successful film in the Chinese box office.
It also broke Chinese film's five-year box office record in the North American market, according to Shanghai-based CMC Inc., who was responsible for the film's distribution in the region.
"The Wandering Earth" is based on a short story with the same name by Liu Cixin, China's top Chinese science-fiction writer and the first in China to win the prestigious Hugo Award. The film tells a story of an epic project to move the Earth and its 3.5 billion residents to a remote star system in the near future because the sun is dying and is about to swallow up the Earth.