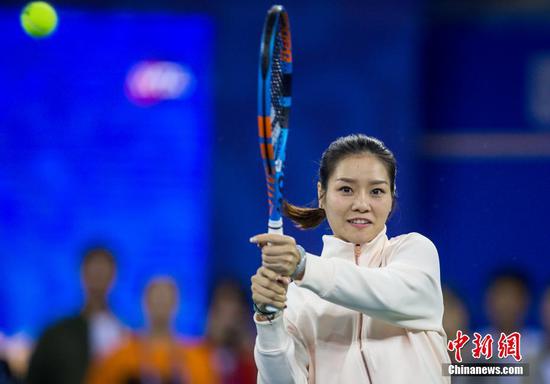 Li Na appears at Wuhan Open on Sept. 23, 2018. (Photo/China News Service)
Induction of Chinese great would be momentous, says HOF boss Martin
Li Na's induction into the International Tennis Hall of Fame (ITHOF) would have massive implications for the sport in Asia, according to the organization's CEO Todd Martin.
China's two-time Grand Slam winner Li is well positioned to become Asia's first player to join the list of greats after topping a fan vote ahead of the judges' final decision on the 2019 entries in January.
In October it was announced that Li was the public's favorite in an online poll ahead of fellow nominees Goran Ivanisevic of Croatia, Mary Pierce of France, Russia's Yevgeny Kafelnikov, Austrian Thomas Muster, Swede Jonas Bjorkman and Spaniards Conchita Martinez and Sergi Bruguera.
"If Li Na were to be inducted into the Hall of Fame, it would certainly be impactful for the history of our sport globally and impactful for the Hall of Fame to be able to represent that continent," American former world No 4 Martin told Xinhua.
"I think that the impact in Asia might be dependent on what her response to it is. I think it needs to mean the world to her before it can generate all the energy in China and Asia that it potentially could."
Since opening in 1954 in Newport, Rhode Island, the Hall of Fame Museum has welcomed 252 tennis greats, with Czech Helena Sukova and German Michael Stich becoming the latest inductees this year.
A total of 23 nations are represented but as yet none from Asia. The result of the fan vote, a new innovation introduced this year, bodes well for 36-year-old Li becoming the first tennis Hall of Famer from her continent.
The Wuhan native became Asia's first Grand Slam singles champion by winning the 2011 French Open. She also claimed the 2014 Australian Open crown before her retirement that year.
"Fan voting was really fun. We have provided an opportunity for tennis fans around the world to reminiscence about people like Goran or Yevgeny Kafelnikov or Li Na or Mary Pierce and whoever else, much more than we ever have in the past.
"It gives fans a say and so often what the fans say is exactly the same as the official voters say," said Martin.
In future years, we can surely expect to see the names of Roger Federer, Rafael Nadal, Novak Djokovic and Andy Murray topping fan polls and earning the judges' votes. But what of those other top players, such as Spain's David Ferrer, that have played alongside these goliaths of the men's game? Should they receive special dispensation considering the exceptional competition they came up against?
"That is one way to look at it. Is this generation going to force people to think about the history of our sport?" mused the 48-year-old Martin. "Might the overwhelming success of these players lead those who decide about Hall of Fame induction to consider different criteria in looking at this?
"Once upon a time you could go five to 10 years where somebody wasn't winning more than a handful of major titles. You look at John McEnroe-he had seven and he had a long and really successful career. Jimmy Connors had a crazy long career and he won eight.
"David Ferrer was number four in the world behind Federer, Nadal and Djokovic before Murray really got his bearings. Sustaining that level behind those three guys could force the Hall of Fame powers that be to consider maybe there are other criteria: How many semifinals did he make? What was his ranking? How many match wins did he have over the course of his career ...?"
Moving with the times seems to be high on Martin's list of priorities as the ITHOF seeks to boost its profile. A $15.7 million investment recently gave the grasscourt season-ending Hall of Fame Tennis Championship in Newport a facelift and Martin is keen to maintain the momentum.
"I am very pleased with the progress. I think that we have taken some pretty bold steps to make sure that the Hall of Fame becomes as global as its name says it to be. There is still a lot of work that needs to happen, but we have gotten the ball rolling and we are keeping the ball moving," he said.
The tennis world as a whole has been busy modernizing, with the rebranding of the Davis Cup perhaps its most radical break with tradition of late.
Driven by a $3 billion investment by Kosmos Group, the 118-year-old international team competition is being renamed the World Cup of Tennis and being transformed into a one-week, one-location season-ending event with bigger prize money.
Martin reckons the overhaul is a positive step.
"I don't think it's perfect but I think it's necessary," said the 48-year-old.
"It has to be looked upon as an opportunity as opposed to something we dread. We have dreaded change way too much over the years.
"This is something that is bold. It could be too radical. If it's too radical, there is going to be another change. Not a change back, but just a change to something different."