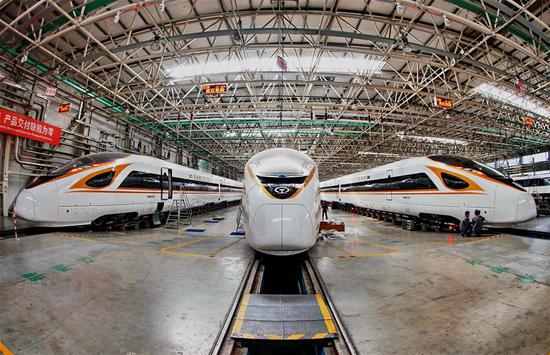 People work on an assembly line of the "Fuxing" bullet train set at Chinese company CRRC Tangshan Co., Ltd in Tangshan, north China's Hebei Province, on March 23, 2018. (Xinhua/Yang Shiyao)
Special: 2018 Central Economic Work Conference
The Chinese economy has kept up good growth momentum, and more new measures will be taken in 2019 to facilitate its high-quality development, according to a key economic meeting concluded Friday.
"With sufficient resilience and huge potential, the Chinese economy will not change its momentum for good growth in the long run," said the meeting. "We will comprehensively and properly use macro-regulating and structural and social policies to ensure the economy can grow in a reasonable range."
The tone-setting meeting has set policy priorities for 2019, a key year for the country to achieve its goal of building a moderately prosperous society in all respects by 2020.
STIMULUS PLANS
Over the past year, Chinese leadership has gained a deeper understanding of economic work under new circumstances, seeing new and worrisome developments amid generally steady economic operation, according to a statement released after the three-day meeting.
To ensure stable aggregate demand, China will strengthen counter-cyclical adjustments in its macro policy and continue to implement the proactive fiscal policy and the prudent monetary policy.
New incentives for the economy include a larger scale of tax and fee cuts after an estimated 1.3-trillion-yuan (about 188.5 billion U.S. dollars) cut in 2018 and a relatively substantial increase in the issuance of special-purpose local government bonds.
"Bigger cuts and moderate expenditure expansion can stabilize growth and improve economic structure, which is very helpful in countering external uncertainties," said Bai Jingming, vice president of the Chinese Academy of Fiscal Sciences.
China will keep the prudent monetary policy "neither too tight nor too loose" while maintaining market liquidity at a reasonably ample level and make direct financing more accessible and affordable for the private sector and small businesses.
"A prudent monetary policy means the country will not adopt strong stimulus policies that would have an economy-wide impact but use more timely and targeted controls," said Dong Ximiao, a researcher with the Chongyang Institute for Financial Studies, Renmin University of China.
REFORM FOR HIGH QUALITY
Describing structural issues as the major principal challenge facing the economy, policymakers pledged to proceed with the supply-side structural reform that kicked off around three years ago at the meeting.
China must stick with the supply-side structural reform to tackle major economic problems and more frequently resort to market-oriented and law-based means, the statement said.
Previous structural adjustments should be reinforced, with continued efforts to downsize glutted industries, reduce all types of business burdens and channel more energy into weak areas including infrastructure.
Micro market entities will be further motivated and energized, with the establishment of fair, open and transparent market rules and a law-based business environment.
China will work to promote technological innovation and foster new industrial clusters, build a unified and open market system with orderly competition and prompt the financial sector to better serve the real economy.
"Given an ongoing shift from speed to quality, China's progress in structural reforms will facilitate building a modern economic system and march toward high-quality development," said Gao Guoli with the macroeconomic research institute under the National Development and Reform Commission.
OPENING-UP UNWAVERING
Policymakers listed continued opening-up as one of the major economic tasks for next year, as the country just celebrated the 40th anniversary of its reform and opening-up.
Efforts should also be made to advance all-around opening-up, the statement said, citing loosened market access, pre-establishment national treatment and negative list management for foreign companies. "Sole proprietorship will be allowed in more sectors."
China will continue to protect the interests of foreign companies, in particular, intellectual property rights, the statement said.
From finance to manufacturing, China has stepped up moves to expedite liberalizing more sectors for overseas investors and businesses, vowing that its integration into the world economy will go on.
With one of the world's largest markets, China will also continue to unleash the potential in the domestic market, according to the statement.
China's fast-growing and open consumer market provides manufacturers and service providers with an enormous opportunity, said Morgan Stanley economist Robin Xing.