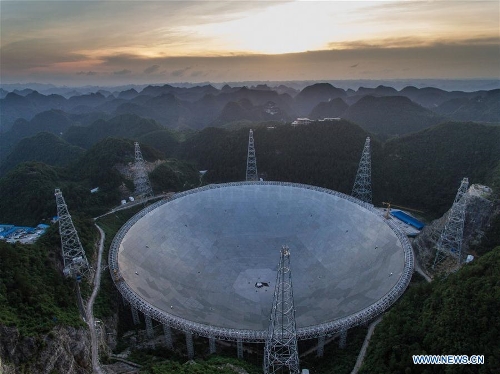 Photo taken on June 27, 2016 shows the Five-hundred-meter Aperture Spherical Telescope, or "FAST," at sunset in Pingtang county, Southwest China's Guizhou Province. Construction of the world's largest telescope FAST started in March 2011. The telescope will be used to detect and collect signals and data from the universe. (Xinhua/Liu Xu)
China's National Astronomical Observatories (NAOC) denied on Tuesday that the 500-meter Aperture Spherical Telescope (FAST) will begin searching for aliens in 2019.
A viral story entitled "FAST is ready to search for aliens in 2019" sparked heated debates on Chinese social media. The story published by Chengdu Economic Daily's Red Star News on Monday said a chief engineer of the telescope showed how to conduct the search at an office in Southwest China's Guizhou Province on November 16.
"It's ridiculous fake news," the NAOC, which led the construction of the FAST, said about the story when reached by the Global Times on Tuesday.
"There are too many irresponsible reports about the FAST," the NAOC said.
Meanwhile, a Chinese space science expert said the telescope is totally qualified for such a task.
"As the world's largest and most powerful radio telescope, the FAST is competent for the task because it's designed with high standards," Jiao Weixin, a professor at Peking University's School of Earth and Space Sciences, told the Global Times.
The US began trying to gather radio signals sent by extraterrestrial civilization decades ago. The scientists at that time used radio telescopes to do it, and it remains so today, Jiao said.
FAST has been a focus of media reports after its construction in September 2016.
Online posts in 2017 said the FAST charged as much as 669 yuan ($98) for entrance. The government of the relatively remote Pingtang county, where the radio telescope is located, denied the claim, saying it has never charged the amount, Shanghai-based news portal thepaper.cn reported in March 2017. 
China is scheduled to examine the FAST in the first half of 2019, after its two-year trial runs and debugging operations, Science and Technology Daily reported in October.
"The telescope will be available to astronomers from China and abroad only after its official examination," Jiao said.