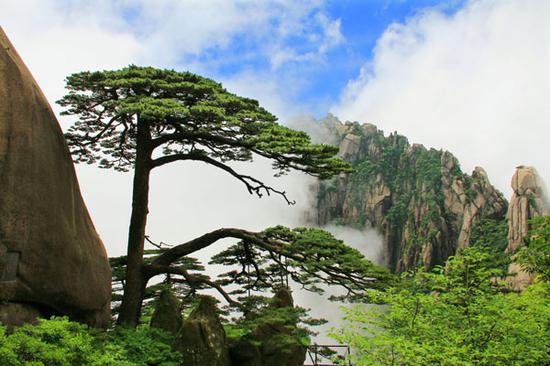 A pine tree on Huangshan Mountain in eastern China's Anhui Province. (File photo/China News Service)
At about 1,700 meters above sea level on Huangshan Mountain in eastern China's Anhui Province stands one of China's most famous trees which is known as the Greeting Pine.
The tree, growing out of the rocks with a long branch extending over the mouth of a cave, got the name mainly because it appears to be greeting anyone who arrives on the scene. It is believed to be between 800 and 1,000 years old.
Almost everyone in China knows the tree but rarely does anyone learn that it has its own guardian.
The tree's 19th guardian Hu Xiaochun said, "I normally check the tree and record details of its condition every two hours. However, I check it every 30 minutes in extreme weather when strong winds and heavy snow hit the mountain."
After serving seven years in the army, Hu returned home and became a ranger on the mountain. In 2010, he was selected as the guardian of the Greeting Pine, but first, he had to learn specific skills and gain experience from his predecessor for over six months before he was able to officially take over the post.
"The tree is quite vulnerable during severe weather, and I have to stay up and watch it around the clock," he said.
In August 2012 when the super typhoon Haikui hit the eastern part of China, Hu stayed up for two nights keeping watch over the tree. Unfortunately, his two-year-old daughter was suffering from a bad fever at that time, but he could do nothing to help when his wife called him.
"I feel a little guilty when I think of my daughter. My work only allows me to go home once a month," said Hu.
Apart from preventing the tree from breaking or falling in bad weather, he also has to keep an eye on the wild animals.
Monkeys and squirrels are more likely to come at night for food and grind their teeth against the pine's bark, which may pose a great threat to the tree. Luckily, an infrared ray detecting system was installed to warn him whenever something encroaches on the area around the tree.
In order to facilitate his work, Hu has learned a great deal about meteorology, insectology and botany on his own over the years.
The first guardian was appointed to guard the Greeting Pine in 1981. Since then, the convention has been preserved for 37 years.
In recent years, the administration of Huangshan Mountain has stepped up its efforts to protect the old and precious trees on the mountain. Experts from various relevant fields, including edaphology, trees mechanics and plant physiology, have been invited to conduct frequent investigation activities on the mountain.
"The scenic area is home to plenty of old and rare trees, out of which 137 are under our special protection. We have adopted different protection measures for different trees," said Ge Xufang, deputy director of the publicity department of Huangshan Scenic Area Management Committee.
The Greeting Pine is a symbol of the Chinese people's hospitality, stretching out its arms to welcome millions of visitors from home and abroad to the mountain. Therefore, Hu said he felt he has taken up a great mission.
Huangshan Mountain, a UNESCO World Heritage Site, covers an area of 1,200 square kilometers and is famous for its jutting rocks, pines, cloud-shrouded peaks and hot springs.
"The work can be boring if you simply view the pine as a tree, but it's a different story if you see it as a senior member of your family. I treat it the same way I would my own family," said Hu.