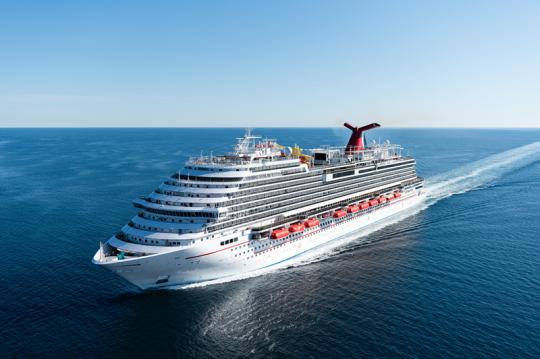 An artist's rendering of China's 135,000-metric ton Vista-class cruise ship. (Photo Provided to China Daily)
Country makes major stride forward in three-way deal to build big vessels
China started a project on Tuesday to build its first large, domestically made cruise ship, a major stride in the nation's shipbuilding capabilities.
A cooperation agreement on the design and construction of two 135,500-metric-ton Vista-class cruise ships was signed by China State Shipbuilding Corp, Carnival Corp and Fincantieri on Tuesday in Shanghai during the China International Import Expo, according to a statement by CSSC, a State-owned conglomerate.
Vista-class is a designation made by Fincantieri to describe a ship with certain features - including most staterooms with ocean views and balconies. The ships are designed with lots of glass windows.
Carnival Corp is a British-American cruise operator and currently the world's largest travel leisure company; Fincantieri is an Italian shipbuilding company and one of the world's largest makers of cruise ships.
Under the agreement, CSSC will work with Fincantieri in designing the ships based on Chinese market requirements and Chinese tourists' customs. One of CSSC's subsidiaries, Shanghai Waigaoqiao Shipbuilding Co, will build the ships and deliver them to a joint venture of CSSC and Carnival that is tasked with operating the vessels to serve the Chinese tourism market.
The contracted price of each ship is $770 million. The first of the vessels is scheduled to be delivered in September 2023; the second will follow in 2024. The three parties also agreed to an option of another four vessels of the same type, CSSC said.
The project marks the first time China will build a large, advanced cruise ship domestically - a new milestone for the country's shipbuilding industry, the CSSC statement said.
Yang Guobing, chairman of CSSC Cruise Technology Co, said that large cruise ships incorporate advanced technologies and sophisticated manufacturing techniques. The research and construction of such vessels is a test on a nation's technological and industrial prowess, he said.
Information from the CSSC said that each ship will be 324 meters long, 37 m wide and 72 m tall. Each ship will have five diesel generators for electricity and will be driven by two electric podded azimuth thrusters for a cruising speed of 33 kilometers per hour and a maximum speed of about 42 km/h. The ships will each have more than 2,100 passenger rooms and nearly 700 crew rooms. Each of them will be capable of accommodating 5,246 tourists.
There will be 16 stories of living, shopping and entertainment quarters that will offer musical performances, art shows and a wide variety of foods.
Market statistics from multiple agencies show that Chinese tourists have become increasingly fond of ocean cruises. Data from Goldman Sachs point to a 70 percent year-on-year rise in the number of Chinese cruise travelers over four consecutive years from 2013 to 2016. Cruise Industry News said that about 2.8 million Chinese tourists went on at least one cruise last year.