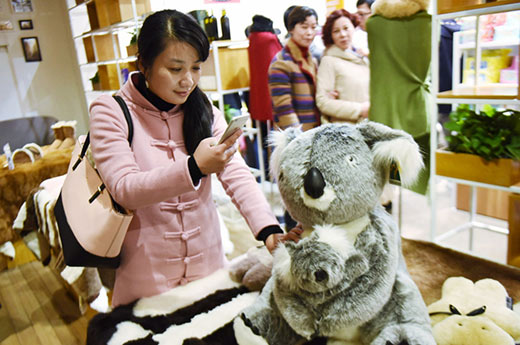 女性群体带动中国O2O发展
Women driving growth of online-to-offline business in China
Females have become the driving force behind China's booming online-to-offline shopping sector, despite their minority position in the country's overall Internet-using population.
女性群体成为中国"线上到线下"(online-to-offline,简称O2O)购物业日益繁荣的推动力,尽管女性只占中国网民总量的少数。
According to a new report from group-buying e-commerce website Baidu Nuomi, women now account for 46 percent of the country's Internet users, but they generate 62 percent of O2O revenues.
根据团购电商网站百度糯米发布的报告,女性用户现占中国网民总量的46%,却为中国O2O产业贡献了62%的收入。
Baidu Nuomi claims it now accounts for a fifth of daily O2O sales-a rapidly growing market that enables online customers to pay online for bricks-and-mortar services, such as movie tickets and restaurant bookings.
百度糯米宣布本网站占日常O2O销售份额的五分之一。O2O市场现正迅速发展壮大,通过O2O模式,消费者可在线上订购传统的实体服务,例如购买电影票和预订餐厅座位。
Tang Lihua, a director at Baidu Nuomi, said the results show that attracting, then retaining, female shoppers has become critical for any O2O platform.
百度糯米总监汤利华表示,从统计结果可以看出,吸引并留住女性消费者对O2O平台的发展至关重要。
"We plan to provide more baby-related and beauty-related services and products, for instance, in order to further grow our business, as we think that's likely to be strong selling-point for women," she said.
汤利华说:"为了促进企业发展,我们计划提供更多的育婴、美容产品和服务,因为我们认为这对女性群体来说是一个重要卖点。"
The study showed that since the start of 2015, female O2O spending has far-outstripped that by males, and the gap is growing, particularly during the country's flagship shopping events such as Qixi, Chinese Valentines Day.
研究结果还显示,自2015年起,女性的O2O消费额已大大超过男性,并且差距还在进一步扩大。这得益于中国几大购物节的刺激作用,例如七夕节,也就是中国情人节的促销活动。
As well as the beauty-related sector, women outspent men in other lucrative areas, too, including gyms and leisure, and hotels, said the report.
报告还称,除了美容消费外,女性在其他营利领域的消费也超过了男性,包括健身、休闲和酒店消费。