(ECNS) -- People's sense of happiness is like a mirror. It tells us the values that drive the nation and the competence of its government, Chinese Foreign Ministry spokesperson Wang Wenbin said Wednesday at a press conference in Beijing.
The spokesperson made the remarks after Ipsos, a leading global market research company, released a report titled "the Global Happiness 2023" that says China has the highest level of happiness at 91 percent.
He noted that over the past 10 years of the new era, China has implemented a people-centered philosophy of development and its immutable goal is to meet the people's ever-growing needs for a better life and deliver a stronger sense of fulfillment, happiness, and security for our people. 
He enumerated the achievements in China's socioeconomic development over the past decade:
The GDP has grown to 121 trillion yuan and China has realized a medium-high rate of economic growth given its large economic aggregate and transitioned to high-quality development; China has won the largest battle against poverty in human history and finished building a moderately prosperous society in all respects as scheduled; The country has brought about an all-around improvement in people's lives and ensured that people are true masters of the country; China has become more beautiful over the past decade as it has acted on the idea that green is gold, and it made further efforts to keep the skies blue, waters clear, and lands clean, notably improving the ecology and environment.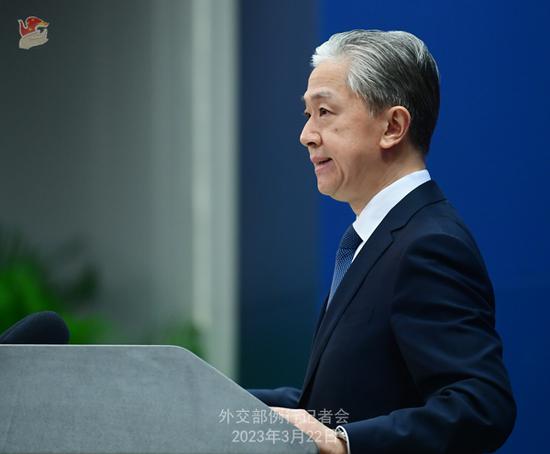 Chinese Foreign Ministry spokesperson Wang Wenbin speaks at a regular press conference in Beijing, March 22, 2023. (Photo/fmprc.gov.cn)
"Facing the global pandemic, China has always put the people and their lives above all else, adapted COVID measures to the changing situation, and effectively coordinated epidemic response and socioeconomic development. By so doing, we have protected people's life and health and secured a major and decisive victory in the fight against COVID-19. Given China's population size, to successfully emerge from the pandemic amounts to a miracle in the history of human civilization," he added.
He cited what Chinese President Xi Jinping has said that the vision of a moderately prosperous society and of a strong country and the Chinese dream of great national renewal are all fundamentally about the dream of greater happiness for the people.
"We believe that going forward, the Chinese people will have a more complete and lasting sense of fulfillment, happiness, and security. We also look forward to working with people across the world to build a community with a shared future and jointly usher in a future with greater happiness," he said.