(ECNS) -- The "guardrails" proposed by the U.S. are sci-tech blockade measures and protectionist in nature, Chinese foreign Ministry spokesperson Wang Wenbin said at a press conference on Wednesday.
According to the proposed "guardrails" for the CHIPS Act issued by the U.S. Commerce Department on Tuesday, recipient companies will have to return the entire funding reward if they engage in significant transactions involving the material expansion of semiconductor manufacturing capacity in some foreign countries including China for 10 years.
Wang said the U.S., in its pursuit of primacy, has overstretched the concept of national security, abused export control measures, and even coerced some of its allies to block and contain China and attempt to fragment the industrial chains at the latter's expense.
He pointed out that it gravely violates the law of the market economy and the principle of fair competition and impedes world economic recovery and development.
He said China will continue to firmly defend the legitimate and lawful rights and interests of Chinese companies.
"Containment and suppression cannot hold back China's development. Instead, it will only strengthen China's resolve and capability to seek self-reliance and technological innovation," the spokesperson added.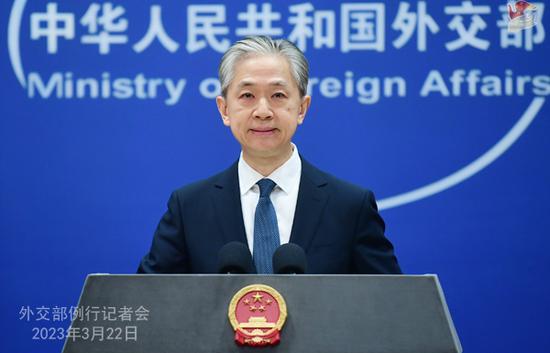 Chinese Foreign Ministry spokesperson Wang Wenbin speaks at a regular press conference in Beijing, March 22, 2023. (Photo/fmprc.gov.cn)
To preserve one's own hegemony at the expense of normal international economic and sci-tech cooperation will only backfire, he noted.
Wang said he hopes all parties will proceed from their own long-term interests and in the interest of a fair and equitable marketplace, abide by international economic and trade rules, work with China to jointly safeguard the stability of global industrial and supply chains and defend the shared interests of all parties.