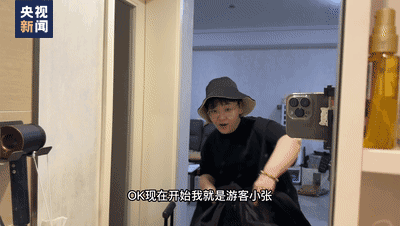 Zhang teaches people how to take plane. (GIF from CCTV)
(ECNS) -- Vlogger Zhang Mengzhen, 28, from Lianyungang City, Jiangsu Province, has become popular online for her videos depicting daily common sense.
Her videos include guidance on taking high-speed trains and planes, seeing a doctor, ordering McDonald's, attending the cinema, opening a bank account, etc.
Commenting on her train video of Jan. 26, Zhang said: "It feels like nobody needs this video. But what if someone does?"
In the video, she explains how to buy a ticket, pass security, check train information, and find your seat.
"If you think I haven't made it clear, you can ask other passengers. There will be kind people to help you," she said at the end of the video, which has attracted over 400 thousand likes on Chinses short video platform Douyin.
A netizen said she had shown her mother the clip before the latter took her first ever train to Beijing.
"She told me her mother felt relieved after watching the video. She sent me a message to say 'thank you' after her mother arrived in Beijing," Zhang said.
Not everyone was born in the city or have taken high-speed trains and planes, she explained. "Perhaps my videos can't help everyone, but I still want people to know that we should never be afraid of new things," Zhang added.