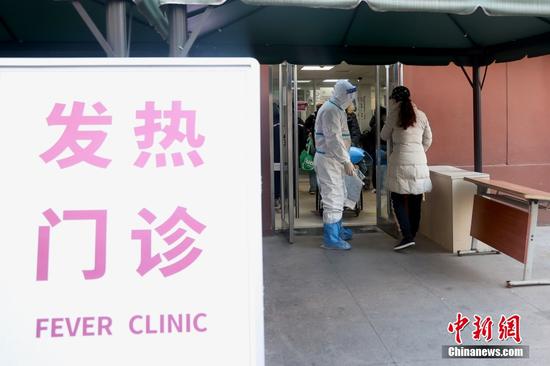 Photo shows a the fever clinic in Chaoyang Hospital, Beijing, Dec. 27, 2022. (Photo/China News Service)
(ECNS) -- Grassroots healthcare institutions in Beijing have set up more beds for patients amid the COVID surge this winter following the city's decision to lift rules that contain the virus.
Beijing Municipal Health Commission asked its 349 community health service centers to set up fever clinics for 11 types of patients, including those with five chronic diseases like hypertension, providing door-to-door drug delivery for the elderly and drug shortage registration services to fully meet basic medical needs.
According to the requests of health authorities, Tongzhou and Fengtai districts have increased beds at their grassroots healthcare institutions in order to relieve the pressure on the hospitals of secondary level and above and meet patients' need for medical treatment.
Twenty-one community health service centers in Fengtai have added another 280 beds.
"At present, wards can provide treatment, rehabilitation and nursing services for the elderly in need. We also arranged a medical team to take care of hospitalized patients 24 hours a day in order to ensure they get timely treatment," said Liu Hong, director of the community health service center of Puhuangyu Community in Fengtai.
Some grassroots hospitals in the city offer all-day outpatient and emergency services, such as the medical institution in Xiji, Tongzhou District, ensuring all patients can get treatment. Meanwhile, it has also increased chairs for infusion and beds for patients.