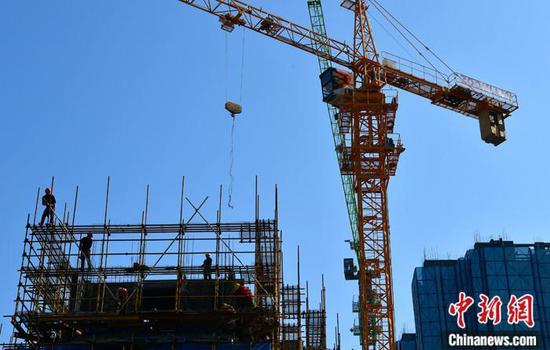 Photo shows a property under construction. (Photo/China News Service)
(ECNS) -- Dongguan in Guangdong Province, with a recorded GDP exceeding one trillion yuan ($157 billion), has removed its six-year house purchase limit amid the property industry dilemma in China.
The city made an adjustment to its property purchase restrictions in July, replacing the whole-area purchase limit with a part limit instead.
Data from Hefu Research Institute shows that such an adjustment is effective, with 3,754 first-hand houses sold in July, a slight increase of two percent year-on-year, and with the average house price reaching 29,274 yuan per square meter, increasing by nine percent year on year.
"After the cancellation of the purchase restriction, over a dozen customers have come these days. Compared with six to seven customers a day before, the figure has doubled," said Liu Liu (alias), a salesperson from a property agency in Dongguan.
The real estate market in Dongguan, especially in the core area of the city, is gradually recovering, after the release of 10 new measures to loosen the COVID-19 prevention and control in China, said Liu. "It was not uncommon that we sold no apartment at all in two or three weeks during the toughest period, but now we can almost sell at least one every day, which is a good sign."
A new round of policy relief on the demand side of the real estate market has begun, as proven by the second-tier core cities like Nanjing in Jiangsu, Foshan in Guangdong, Wuhan in Hubei, which have loosened restrictions on house buying or scraped related limit, said Li Yujia, chief research fellow from the housing policy research center of Guangdong Urban & Rural Planning and Design Institute.
According to China Index Academy, as of Dec. 26, more than 1,000 pieces of property market easing policies, including optimizing house purchase limit and loan-related policies, and adjusting house price limit, have been issued in over 330 cities and counties.