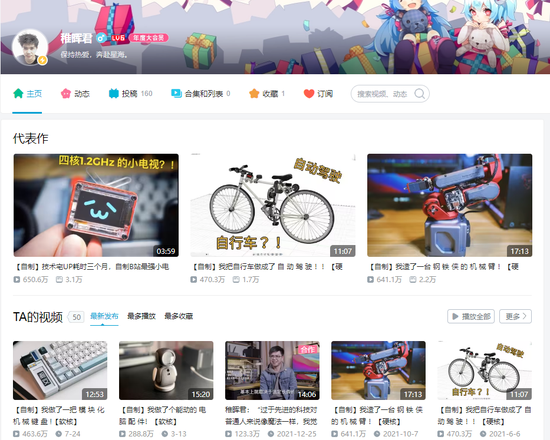 Zhi Huijun's account on Bilibili. (Screenshot Photo)
(ECNS) -- Zhi Huijun, who joined Huawei in 2020 through this company's "genius boy" plan, left office, the young man said on his Weibo account on Tuesday.
The young man thanked colleagues in his post and said he will cherish his experience with Huawei. "I'll start a new career and do something more challengeable," he said.
Zhi Huijun, whose real name is Peng Zhihui, graduated from the University of Electronic Science and Technology of China, majoring in information and communication system. He worked for Huawei's computing business with research direction in heterogeneous computing in Edge AI.
The young man is also a well-known blogger on Bilibili, a video platform in China. He has published some videos like making an Iron Man manipulator and a modular mechanical keyboard, attracting more than two million followers. He was called "Wild Iron Man" by netizens.
In 2021, his self-driving bike, which is equipped with Lidar and able to walk on its own, avoid obstacles and keep balance, has drawn nearly five million views on Bilibili. The cost of the bike is less than 10,000 yuan (about $1,434).
The "genius boy" plan was launched by Ren Zhengfei, founder of Huawei, in 2019, aiming to attract unique talents by extremely high salary and challengeable work.
The recruitment of genius employees is very strict and interviewees have to pass around seven rounds of interviews including the interview from the tech giant's president. Those genius employees can get a salary of at least one million yuan a year.
In March this year, senior executives of Huawei revealed the company had recruited more than 300 genius employees in 2021 in the past two years.