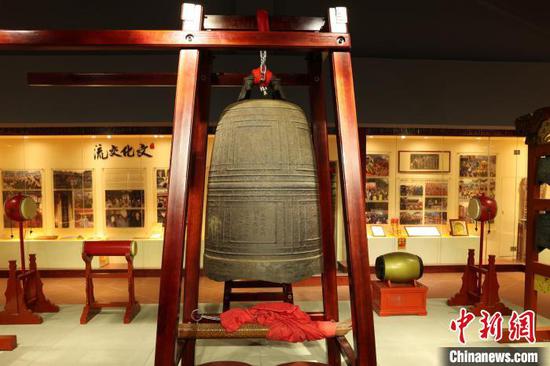 Photo shows the ancient bell found in Quanzhou, Fujian Province. (Photo provided by the Tonghuai temple of Guan Yu and Yue Fei)
(ECNS) -- A bell of the Ming Dynasty was found in the Tonghuai temple of Guan Yu and Yue Fei in Quanzhou, southeast China's Fujian Province, according to local authorities on Tuesday.
This bell can be dated back to 32 years of the Wanliera (1604 AD), Ming Dynasty, and boasts a history of 418 years.
The ancient bell is made of iron, with a height of 120 centimeters, a bell mouth diameter of 70centimeters, and a thickness of five centimeters. It weighs about 350 kilograms.
Cultural relic experts confirmed it belongs to the Tonghuai temple of Guan Yu and Yue Fei.
The old bell was on display in the cultural center of the temple.
Guan Yu, also called Duke Guan, was a general during China's late Eastern Han Dynasty (25-220) known for his bravery and skill in battle while Yue Fei wasa military commander during the Southern Song Dynasty (1127-1279) heralded as a national hero.
Duke Guanand Yue Fei belief and customs in Quanzhou, a UNESCO World Heritage Site, is essential to the study of history, culture and folklore in southern Fujian, and has become a part of traditional Chinese culture.