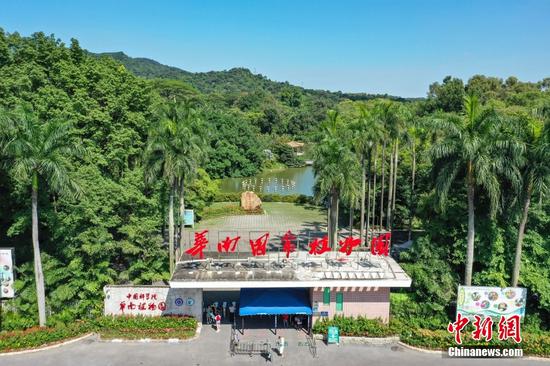 China's second national botanical garden, South China National Botanical Garden, is inaugurateed in Guangzhou, July 11, 2022. (Photo/China News Service)
(ECNS) -- China's second national botanical garden, South China National Botanical Garden, was inaugurateed in Guangzhou on Monday.
With a total of 319 hectares of core functional area planned, the new national botanical garden was built based on South China Botanical Garden. It spans Guangzhou and Zhaoqing, two cities in Guangdong Province.
There are 17,168 taxa of ex-situ protected plants, 643 rare and endangered plants, and 337 national key wild protected plants in the garden at present.
The garden will participate in plant diversity protection both in China and the world and achieve the conservation goal of 20,000 species. Meanwhile, it aims to play a world-leading role in collection and storage of living plants, among which 6,000 species are economic plants.
Besides, 95 percent of rare and endangered plants in south China will be effectively protected, thus to provide source plant resources for green development.
Approved by the State Council in May, the garden was jointly built by the National Forestry and Grassland Administration, Ministry of Housing and Urban-Rural Development, Chinese Academy of Sciences and the governments of Guangdong Province and Guangzhou municipality.
China is one of the countries in the world with the richest biodiversity, having more than 37,000 known species of higher plants, accounting for about one tenth of the world's total.
The South China National Botanical Garden, together with the national botanical garden in Beijing, has formed a system of systematic collection and complete preservation of wild plant groups, which is helpful to maintain the country's plant diversity.