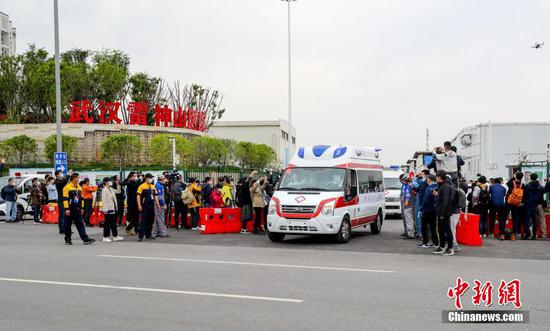 An ambulance carrying one of the last four patients of Leishenshan Hospital in Wuhan, Hubei Province, leaves the hospital on April 14, 2020. (Photo/China News Service)
Special: Battle Against Novel Coronavirus
(ECNS) -- Leishenshan Hospital, a makeshift facility built in the Hubei provincial capital of Wuhan to help combat the novel coronavirus outbreak, will close Wednesday after 67 days' operation.
The last four patients in the hospital's ICU wards were transferred to Zhongnan Hospital of Wuhan University on Tuesday for further treatment.
The hospital was built from scratch to help then-overloaded local hospitals treat COVID-19 patients.
It had admitted 2,011 patients since Feb. 8, curing more than 1,900. Half of patients were severely or critically ill at first.
A 98-year-old woman, surnamed Hu, was discharged from the hospital on March 1, the eldest patient at the time.
Construction of the hospital began on Jan. 26, and finished in only 14 days on Feb. 8, with 13,000 construction workers deployed day and night. It was set up with 1,600 beds across 32 isolated zones and two ICUs.
A total 3,202 medics and 660 service staff from 16 medical teams dispatched from China's 9 provinces and municipalities were employed at the facility to fight the novel coronavirus.