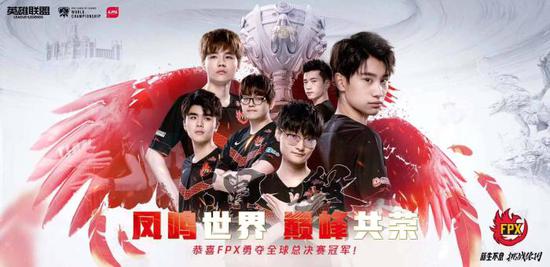 A poster of Chinese team FunPlus Phoenix ready to take part in the 2019 League of Legends World Championship.
(ECNS) -- Chinese team FunPlus Phoenix (FPX) defeated European counterparts G2 Esports (G2) 3-0 in the final of the 2019 League of Legends World Championship held in Paris on Sunday night.
FPX traveled a bumpy path to win the title after it first secured the LPL 2019 Summer Championship as well as first seeded-position. Despite high expectations, FPX suffered a surprising defeat in their first match.
Before the final, a member of the rival G2 said FPX was one of the weakest in the group and might lose to FNC. But the Chinese team beat FNC 3-1 to finish in the top four, entering the final against G2, a team that swept to victory in every competition this year.
Gao Tianliang, a member of FPX, was named MVP in the world championship.
"People used to say I played the game like somebody else, with no chance to prove myself, but I want to say today that I'm just myself," Gao said.