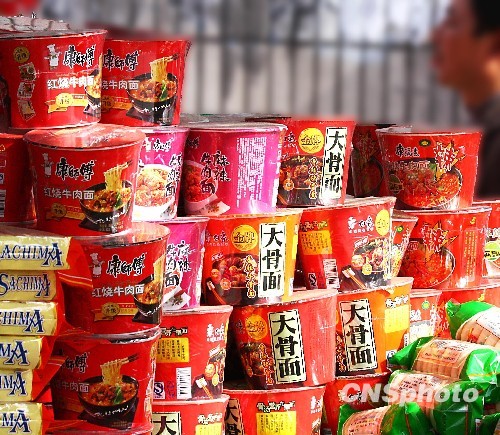 Instant noodles were sold in a shop. (File photo/China News Service)
(ECNS) -- Known for their convenience, low cost and diverse culinary styles, instant noodles seem to have made a comeback in China, Securities Daily reported.
Both revenue and profits of China's food industry increased last year, among which the instant noodles sector regained momentum after industrial upgrade, accounting for nearly 40 percent of global sales, according to data released at a conference recently.
Following a five-year slowdown, sales of instant noodles across China saw robust growth among producers, according to China Instant Food Conference Press Conference recently held in Beijing.
Data from Nielsen shows Chinese consume more than 40 billion packets of instant noodles annually, with sales revenue in the first half of this year up 7.5 percent year-on-year.
Total consumption of instant noodles worldwide reached 103.6 billion units in 2018, with about 40.25 billion units or 39 percent of the total sold in China, according to a report from advisory firm Ries Consulting.
Growth in instant noodle sales has experienced ups and downs in China over nearly two decades. From 2000 to 2011, domestic instant noodle sales increased from 17.8 billion packets to 42.47 billion. Then from 2013 to 2016, sales dropped sharply from 46.22 to 38.52 billion units.
Some analysts ascribe the downturn to the rise of online food services supported by Internet giants in the online-to-offline (O2O) market as the country saw an increasing use of QR codes, mobile payments and booming smart startups.
Food industry analyst Zhu Danpeng said growth in the instant noodle market picked up in the fourth quarter of 2016 as manufactures increased efforts to woo younger consumers.
A woman told the paper her family often stores one box of instant noodles at home because she thinks they are more hygienic and cheaper than those ordered online and delivered to homes.
Among many varieties, braised beef noodles have long been a favorite among consumers, but young people born after 1995 are more interested in new tastes and experiences.
Baixiang Food, a major producer of instant foods and beverages, has recently released three new types of instant noodles including an old Beijing style with six flavors.
The two most popular brands of instant noodles in China, Master Kong and Uni-President, account for 80 percent of the market, both reporting higher growth in high-end noodle varieties.