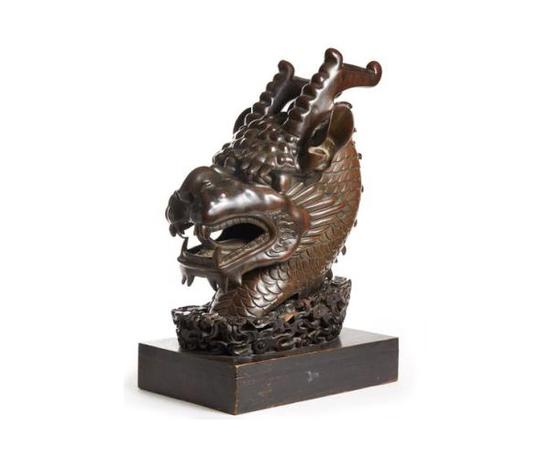 A "dragon head" was auctioned for $2.7 million in France, Dec. 17, 2018. (Photo/Tessier & Sarrou Auction House)
(ECNS) - Chinese experts have doubted the authenticity of a dragon head sculpture sold for 2.4 million euros ($2.7 million) at an auction in France on Monday.
The dragon head, one of 12 bronze animal head sculptures representing the Chinese zodiac, was introduced in the auction data as 40cm in height and 45cm in length, but without confirmation of its relation to Yuanmingyuan Park, or the Old Summer Palace.
Liu Yang, a member of the Academic Committee of the Yuanmingyuan Society of China, said he believes the relic is from Yuanmingyuan after looking at the photos showing internal and external details, but added that he is not 100 percent sure.
Bronzeware experts disclosed that available materials are not sufficient to verify if the sculpture is a real dragon head lost from Yuanmingyuan.
A collector believed to be a Chinese won the bid, said Liu.
The looted dragon head, along with another 11 bronze sculptures, formerly guarded a building in Yuanmingyuan Park, which was built from 1709 onwards and looted by British and French troops in 1860.
In September, the bronze heads of the ox, tiger, monkey and pig were displayed at an exhibition in Jiangsu.
So far, the whereabouts of the bronze snake, goat, rooster, and dog heads are still unknown.