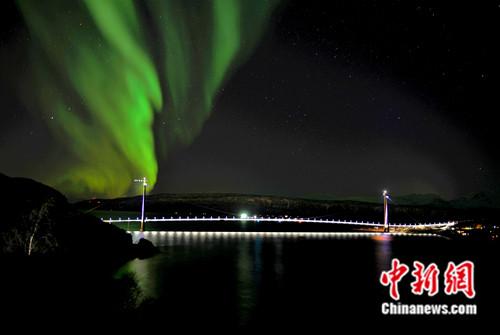 Halogaland Bridge in northern Norway opens to traffic on Dec. 9, 2018. (Photo/China News Service)
(ECNS) - The Halogaland Bridge, built by Sichuan Road and Bridge Group (SRBG), over a fjord by the city of Narvik in northern Norway opened to traffic on Sunday.
With a free span of 1,145 meters and 1,533 meters in length, it is one of the longest suspension bridges in Europe. Its two towers are 172 meters and 175 meters high.
The bridge will reduce the travel distance between Narvik and Bjerkvik by 18km over the European E6 highway route, the main north-south road through Norway and the west coast of Sweden.
Construction overcame challenges including extreme cold and strong winds, said Lu Wei, a project manager from SRBG. Builders cooperated with scientific research institutes to improve design and ensure safety, it was added.
The bridge is important for Chinese enterprises as the first such major project in northern Europe. Its 11,000-ton steel structural parts were manufactured in four factories in China, and then transported to Norway.
"Successful completion of the bridge is the outcome of the collective wisdom of China's bridge construction," said Lu.
In 2013, SRBG won the steel contract in a tough competition with the world's leading bridge builders. The initial contract was valued at 755 million kroner ($96 million).