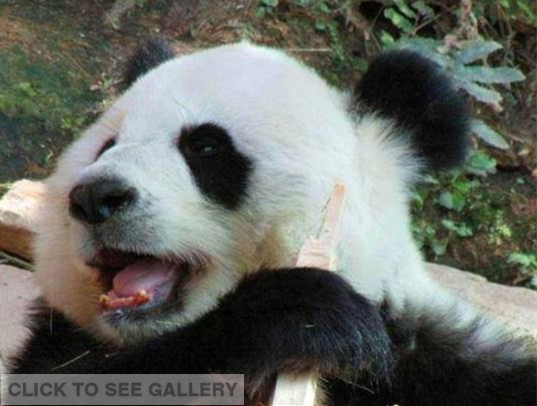 An online video clip of giant panda Linhui with rotten teeth at the Chiang Mai Zoo in Thailand has created a stir among netizens who fear the black-and-white bear had been badly treated at the zoo. [Photo: Weibo account of Sing Sian Yer Pao Daily]
(ECNS) ? Experts have addressed rumors that giant panda Linhui has been abused by the Chiang Mai Zoo, saying the panda's dental problems may have been caused by eating bamboo that is too thick and hard, the Chengdu Commercial Daily reported.
A social media post on Sept 2 by Sing Sian Yer Pao Daily, a Mandarin language newspaper in Thailand, mentioned an online video of Linhui having difficulty eating an apple because her teeth suffered from severe abrasions. Netizens started to question whether the Chiang Mai Zoo had been mistreating Linhui by feeding her cheap bamboo.
The Sing Sian Daily also learned that funding for giant pandas in Thailand is low, at only 1,200 yuan ($200) a month for food.
In a response to Sing Sian Daily's questions, the Chiang Mai Zoo said it had noticed abnormal enamel erosion on Linhui's teeth about half a year ago. After consulting with Chinese experts and doing an X-ray at the Chiang Mai University clinic, they concluded that it was mostly a genetic problem.
According to the Zoo, Linhui is in healthy condition after receiving treatment by Chinese and Thai doctors.
But a panda expert interviewed by the Chengdu Commercial Daily said the problem is likely caused by the kind of bamboo the panda has been eating.
The expert said pandas at the Wolong Panda Reserve in China's Sichuan province feed on very tender bamboo with a diameter of only 1.5 centimeters. However, bamboo in Thailand is usually harder and thicker, which could hurt the panda's teeth and cause eating difficulties.