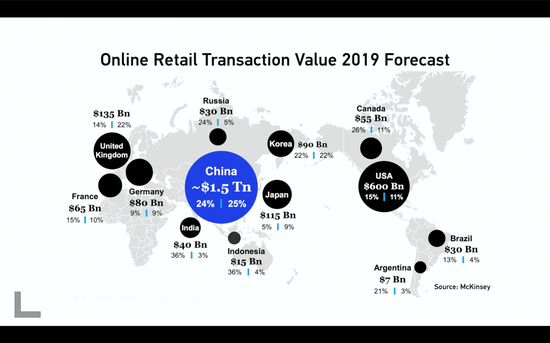 Special: 6th World Internet Conference
China's e-commerce sales could reach 1.5 trillion U.S. dollars this year, which are expected to surpass that of the other top 10 markets combined.
Today the nation has more than 800 million digital consumers, and e-commerce contributes to a fourth of its retail sales.
This didn't happen overnight. China's e-commerce boom started with the establishment of Alibaba in 1999, which then launched its Taobao platform in 2003. The way Chinese people shop has changed dramatically since.
What used to be a platform to connect small retailers with buyers was coveted by big consumer goods corporations who also wanted to sell online. Then the second phase of competition started: Big companies like JD and Suning rose, who focus on Business-To-Consumer (B2C) sales of higher-end products.
Alibaba also launched its own B2C platform in 2008. E-commerce used to account for two to three percent of big brands' total sales. But as the internet has become more prevalent in China, many brands are reporting 15 or even 25 percent of total sales through our platform," said Hu Weixiong, general manager of FMCG, Tmall Alibaba.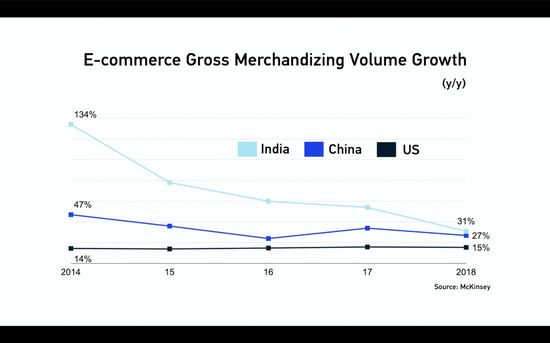 But fast forward to recent years, the e-commerce boom seems to be losing steam. The growth of online sales has slowed from close to 50 percent in 2014 to just 27 percent in 2018. "In the past there was very broad based growth across many categories. But that part of the demographic dividend is gone," said Vincent Lui, senior partner of Boston Consulting Group.
That means most urban Chinese across big cities are already used to online shopping. A new phase of an e-commerce war is brewing, and the battleground is not in major cities.
Data suggests that people living in lower-tier cities generally have less pressure and more free time, and are just as digitally connected as their peers in first-tier cities.
22-year-old hospital intern Huang Zhiyuan in Taizhou City, east China's Zhejiang Province, could be considered part of the demographic that represents the third phase of the e-commerce war. He uses many online shopping apps, and among them is Pinduoduo.
"I remember when I first downloaded Pinduoduo, there was a one-yuan purchase sales campaign for new users. I tried it and to my surprise I did buy something with only one yuan," recalled Huang.
The platform focuses on small brand, low-end products with incredibly cheap wholesale prices if you buy with a team of other buyers. Users can invite friends on social media to further slash prices. This is mainly how the app gained some 300 million users without much advertising.
"For many daily items like garbage bags and toilet paper, I don't have many requirements or expectations. So I don't care about what brands I buy as long as they are cheap," said Huang.
Pinduoduo managed to become the second biggest e-commerce platform in China. Its success brings a fresh look to the Chinese market.
Taizhou is in a highly developed eastern part of China. But in many hinterland regions, the demand for e-commerce is exploding. Alibaba says 70 percent of its new customers are from lower-tier cities. The battle for these new customers is on and Pinduoduo is taking the lead.
While the company's expansion feels unstoppable, many of its users can tell you about the platform's biggest problem. "I won't buy tablets, phones, clothing, shoes or books on Pinduoduo," said Huang.
Counterfeit goods have been the platform's biggest controversy. Plus, analysts are not sure how long the super cheap prices will last. Pinduoduo spends a huge amount on subsidies for sellers to lower prices. Despite the high traffic, the company still lost close to 11 billion yuan in 2018.
Now, e-commerce firms are using new ways like live-streaming to win over people like Huang Zhiyuan. Beyond Taizhou, there are over 600 cities, and more than 600,000 villages. The one that can penetrate these markets might just be the next industry leader.