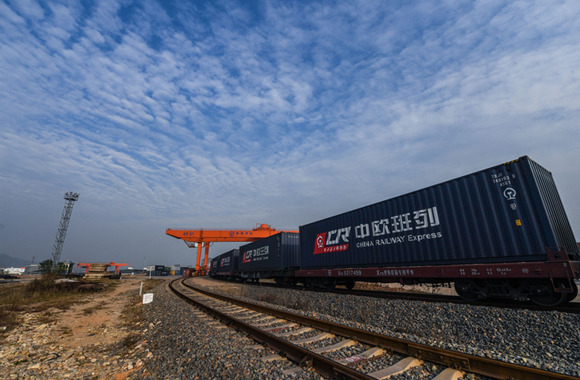 Yixinou railway connects Yiwu to a number of European countries. (Photo/China.org.cn)
A city of reforms
Perhaps no one in Yiwu knows more about the Belt and Road Initiative — and the opportunities it brings — than Bei Xudong, who oversees the operation of the intercontinental "Yixinou" railway, connecting Yiwu to a number of European countries.
Rather than focusing on the benefits, however, Bei looks down the path toward obstacles and makes plans to keep the momentum for Yiwu to grow.
Yixinou, connecting Yiwu with a number of European countries, is hailed as an exemplar of the massive Belt and Road Initiative.
One potential pitfall, Bei says, lies in the increasingly breakneck competition for business with European countries. Yiwu is therefore considering building alternative rails this year, extending to Western Asia, the Caspian region and Southeastern Asia.
Like the visionary Party secretary credited with starting it all, Bei is hoping the market could take the reins on these expansions. Yiwu has not offered subsidies to the railway, and the city entrusted the railway's operation to a private company.
Bei also reveals that Yiwu is mulling over a "Belt and Road Czech Station" in the Czech Republic, which would integrate the Yiwu-Czech railway, trade, logistics, warehousing, freight stations and other functions.
"We not only aim at building the Yixinou into a key logistics channel, but also a channel for Yiwu to deepen trade and cooperation with the countries along the railway," Bei said.