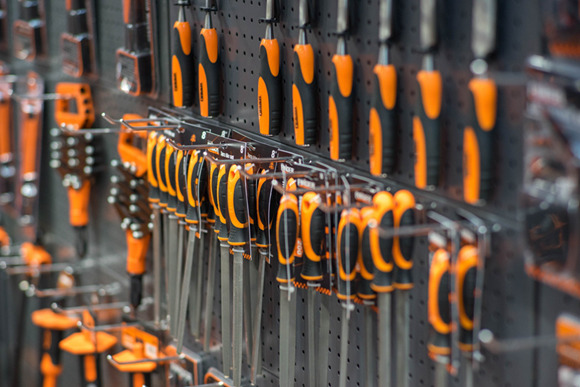 Wang Minfeng's tools store in Yiwu, Zhejiang province on April 24, 2018. (Photo/China.org.cn)
Wang Minfeng's store sells hardware tools on the eighth floor of the District Four building, among the sprawling market complex called the Yiwu International Trade City. Sitting next to other stores peddling colorful gift packets, umbrellas, and clocks in the shapes of Disney characters, Wang's tools appear modest and subdued. Yet with a unifying black and orange theme and a stylish logo, the tools extend a subtle cachet that makes them easily recognizable.
Like his store, Wang appears humble, avoiding eye contact and speaking tersely — until the topic turns to his wares, and he becomes as good a salesman as any.
He would take you through his myriad products displayed on the walls. And if those are not what you are looking for, he would pull out his smartphone with pictures of the tools his team has in the pipeline, like a proud father showing off photos of his kids.
Similar to many small business owners in Yiwu, Wang built his store from the grounds up. He launched his business in 1998 and became a major distributor for a famous screwdriver manufacturer two years later.
Not satisfied with the growth prospects, he and wife Chen Yanzhen took out a high interest loan of 200,000 yuan in 2004, moved the store from a rented makeshift booth to the newly built market, and registered their own brand.
Chen recalls the years of trials and tribulations before the couple found their footing. "In the past, it was all about hard work, but now it's about new things and we have to respond quickly."