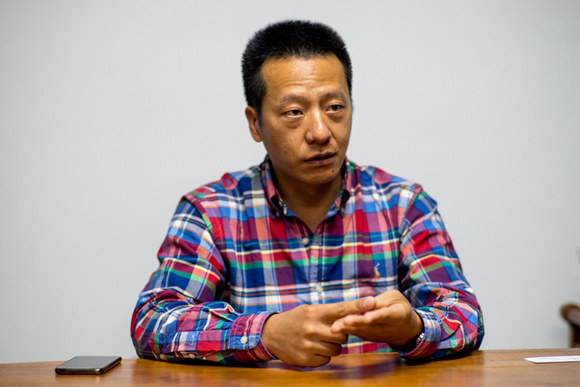 Wang Minfeng sits in his tools store in Yiwu on April 24, 2018. (Photo/China.org.cn)
When the SARS epidemic hit China in 2003, the trading hub in Yiwu faced threats from potential carriers travelling from all over the country. The jam-packed marketplace compounded the risks, with cement booths measuring only one or two square meters squeezing next to one another.
"We didn't take even one day off but went to the market every day," Chen says. "When customers from Guangdong (where the epidemic originated) came to the market, my husband gulped down garlic and the so-called preventive medicines before going ahead to wait for them at their hotels."
The hard work and risk taking — both physically and financially — would eventually bear fruit, as the company gradually took off. According to Wang, annual sales now reaches 60 million yuan, and his tools are sold to over 100 countries.
What is next for Wang? The seemingly reserved entrepreneur is not shy about his ambitions, writing his goals right on the shopfront window: Building an e-commerce team and securing at least 50 international distributors; revving up on R&D and entering the second phase of brand-building; preparing to introduce stock options.
Through these new tools and platforms, Wang says he hopes to build a globally recognized brand.