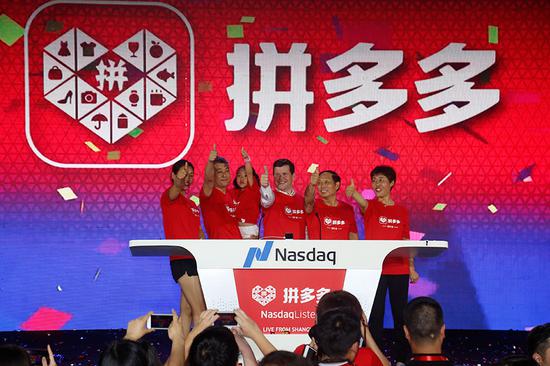 Company executives of Pinduoduo celebrate as the company gets listed on the Nasdaq on July 26. (Provided to China Daily)
The hugely contentious online discounter Pinduoduo Inc reported strong growth in the third fiscal quarter, sweeping away many of the market doubts that have been lingering since its initial public offering on the Nasdaq.
According to unaudited fiscal results released on Wednesday, Pinduoduo's total revenue reached $491 million by the end of the third quarter that ended on Sept 30, up 697 percent year-on-year. Its gross merchandize volume surged 386 percent from a year earlier to reach $50.2 billion. The number of average monthly active users in the third quarter was 231.7 million, up 226 percent year-on-year.
But it should be noted that the company's reported loss in the third quarter was $90.1 million, while the figure was around $30 million during the same period last year.
Huang Zheng, chairman and CEO of Pinduoduo, defined the company's third quarter growth as "strong and sustained". Its unique and fun shopping experience with value-for-money products continued to gain traction among consumers, he said.
Regarding the expected net loss, Pinduoduo Vice-President of Finance Xu Tian said that the company still "generated positive operating cash flow for the third consecutive quarter this fiscal year", which indicated Pinduoduo's ability to manage its net working capital efficiently.
Pinduoduo's substantial growth has to some extent offset the stagnant performance of Chinese companies listed in the US market.
According to Guangzhou-based Cornerstone Capital, fewer than one-fourth of US-listed Chinese companies reported growth in the third quarter. The Halter USX China Index, which tracks US-listed Chinese companies, dropped 15 percent in the quarter. During the same period, the Standard & Poor's 500 Index, the Nasdaq and the Dow Jones Industrial Average registered growth of 7.2 percent, 7.14 percent and 9.01 percent, respectively.
Founded in 2015, Pinduoduo has been inundated by doubts and questioning since it went public in July. In early August, central and regional market regulators started investigations into complaints about counterfeits sold on Pinduoduo. As a result, its stock price dropped below its offering price and slumped to $17.2 per share.
As a result, Huang said in the conference call on Wednesday that it had closed 5,500 stores on its platform in September. In addition, 7.7 million questionable products have been removed and 3 million links suspected of sales infringement have been blocked.
Just one week before Pinduoduo released its latest fiscal results, activist short seller Blue Orca Capital published a 42-page report claiming that Pinduoduo inflates its reported revenues and understates its staffing costs and net losses.
Vincent Cheung, partner of online securities brokerage Tiger Brokers, said that Pinduoduo's strong performance in the third quarter has forcefully beaten the short seller's opinion.
"Both Alibaba and JD confronted short sellers reports in their early days. Due to the different accounting standards in China and the US, there will be different results in fiscal reports. Regarding Blue Orca's latest report on Pinduoduo, there is not yet a key point worth short selling," said Cheung.