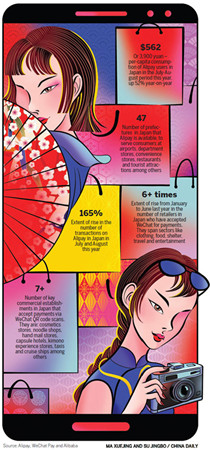 E-commerce and mobile payments are transforming socio-economic sphere
New-age business models powered by technology and innovation are heralding a new era in Sino-Japanese economic cooperation, in the process helping the two nations to be pragmatic and not allow their bitterness-laced past to influence the present and potential benefits of a shared future.
Driving this practical approach are 21st-century Chinese enterprises engaged in cross-border e-commerce, mobile payments and sharing economy-related businesses.
Emerging fields such as artificial intelligence, new materials and other cutting-edge technologies will likely further bridge Sino-Japanese businesses, spawning unprecedented benefits for consumers in both countries, and creating big opportunities for many industries across continents, experts said.
Evidence of this trend comes from Chinese e-commerce players that are stepping up efforts to expand their presence in Japan.
Alibaba Group Holding Ltd said Japan is one of its most important markets. So far, 1,370 Japanese brands have found consumers on Tmall Global, Alibaba's business-to-consumer or B2C platform for international brands and retailers.
These Japanese brands cover food, cosmetics, home appliances, maternal and child products, fashion and personal care.
Japanese merchants on Tmall Global notched up a 122-percent year-on-year rise in sales in the fiscal year to Marchend, according to Alibaba.
Its New Retail strategy, Alibaba said, combines online and offline platforms to transform the retail experience for consumers. This makes hot products hotter as Chinese consumers gain access to top-quality Japanese products.
In fact, rising demand for such products among Chinese consumers led JD to establish its Japanese subsidiary in August 2017. JD is another prominent Chinese e-commerce player with additional presence in logistics, delivery and intelligent retail. Its unit in Japan now helps JD to do business directly with local manufacturers.
In September, JD Worldwide, JD's cross-border e-commerce platform, announced the opening of a procurement center in Tokyo. It is the first such center of JD around the world.
JD Worldwide has attracted Japanese department store chain Isetan Mitsukoshi Holdings Ltd to open an online flagship store. Moreover, it has signed strategic cooperation agreements with Japanese cosmetics company Kao Corp, and coffee and beverage maker AGF.