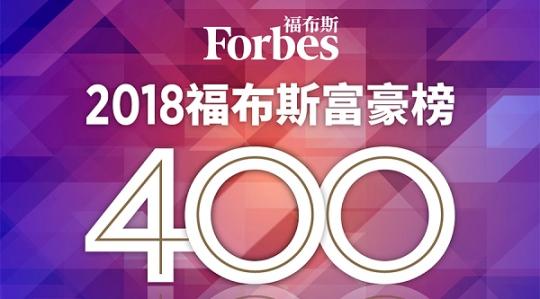 Alibaba founder Jack Ma regains top spot on Forbes' list of China's richest. (Photo/ forbeschina.com)
Business magazine Forbes published its 2018 list of the 400 richest people in China on Thursday, a total wealth of $1.06 trillion.
Alibaba's founder Jack Ma regained his title as China's richest man since losing the crown in 2014, with wealth of $34.6 billion, followed by Tencent's Pony Ma with $32.8 billion and Evergrande's Xu Jiayin with $30.8 billion, according to Forbes.
However, the top three's wealth shrank compared to a year ago, with drops of $4 billion, $6.2 billion and $11.7 billion respectively.
Xu Jiayin lost the most, and seventh-ranked Wang Wei, chairman of delivery company SF Holdings, was the second-biggest loser. His wealth fell by $7.4 billion.
This year, the list welcomes 43 newcomers, some of whom benefited from their firms' initial public offerings on the stock market.
Huang Zheng, founder of online discounter Pinduoduo, ranked 12th on the list with wealth at $11.25 billion. He is a dark horse among the newcomers.
As Chinese mainland's biggest hotpot restaurant chain Haidilao was listed on the Hong Kong stock market in September, the firm's founders Zhang Yong and Shi Yonghong ranked among the 400 richest, with wealth of $7.7 billion and $3.65 billion respectively.
Due to the firm's listing this year, smartphone maker Xiaomi's founder Lei Jun's wealth surged to $11.9 billion from $6.8 billion, and group-buying and meal-ordering app Meituan Dianping founder Wang Xing's wealth increased to $5.1 billion from $4.05 billion.
Xiaomi's listing also raised five other co-founders' ranks on the list, with three newcomers.
Among the 400, the oldest is 86-year-old Liang Shezeng from real estate developer Shirong Zhaoye, and the youngest is 31-year-old Wang Han from Juneyao Air. Fifteen on the list are younger than 40.