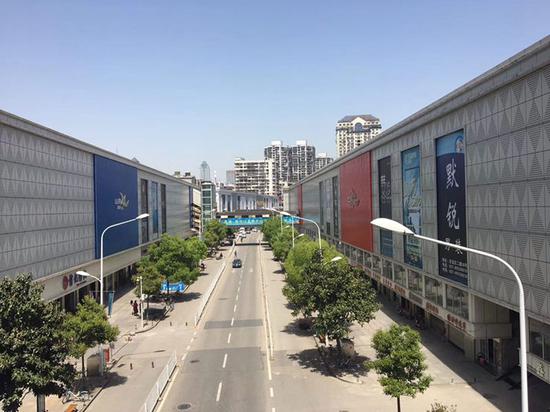 Hanzheng Street stretches 1,632 meters in Wuhan, Hubei Province. (Photo/China Daily)
Special: 40YearsOfReform
Zheng Juxuan started his first business in 1979 selling buttons from a bamboo bed on a sidewalk in Wuhan's Hanzheng Street.
The street, which runs along a central stretch of the Yangtze River, has been a magnet for small-commodities traders in Central China for about 500 years.
It was closed down during the "cultural revolution" (1966-76), but when the nation launched reform and opening-up in 1978, Zheng was among 103 vendors who received licenses to restart trading.
Before long, shoppers began flooding back, too, and business boomed.
Zheng went from selling from the sidewalk to opening a store and then several more, each offering a range of everyday goods. By 1990, his business was raking in 20 million yuan in annual revenue.
"I never imagined at the start that my business would become such a success," said the 78-year-old entrepreneur, who until then had struggled to make a living due to a severe visual impairment caused by smallpox when he was 6.
"I couldn't tell you how much money I earned at the beginning of 1980. Once the products were on the shelves, the orders just kept coming."
Zheng quickly established a national sales network and signed exclusive deals with suppliers, allowing him to switch his business from retail to wholesale.
"It was normal to see goods piled up like mountains in my shops. But I could always find a way to sell them and get a good price," he said, adding that he traded in bulk and kept his profit margins low.