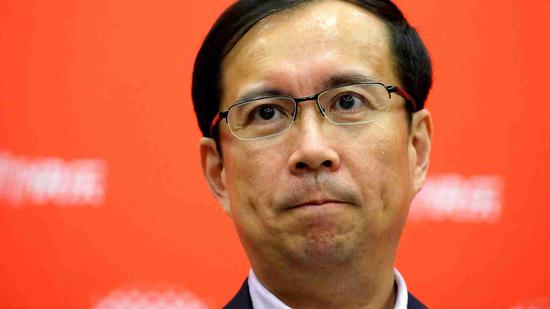 Daniel Zhang (his Chinese name is Zhang Yong),46, a finance graduate from Shanghai University of Finance and Economics. (Photo/CGTN)
Investors gave a mixed reaction to Jack Ma's announcement on Monday that he would step down as Alibaba's executive chairman, with shares in the New York-listed company hitting their lowest point in a year.
Ma confirmed that he would be handing his role as executive chairman to Daniel Zhang, with a statement saying "I want to devote myself to education, and doing what I love will make me very excited and happy."
Shares in Alibaba, which launched a record-breaking 25 billion US dollar initial public offering on the New York Stock Exchange in 2014, fell 3.70 percent in Monday's trading session, a new low for 2018.
Ma's announcement comes at a time of uncertainty for investors looking to buy in the Chinese tech sector. Since June 14, Alibaba shares have fallen by more than 25 percent, while rivals Tencent and Baidu have dropped by 23.88 and 21.08 percent respectively over the same period.
Alibaba's e-commerce rival JD.com has seen its stock price drop even further, plummeting by more than 39 percent in the same period after the arrest of its founder and CEO Richard Liu earlier this month.
One major concern for investors will be how Alibaba can continue without Jack Ma – a personality and figurehead intrinsically linked with the company and China's tech sector.
In his statement, Ma looked to play down his links to the company he founded two decades ago, saying "no company can rely solely on its founders."
Who is Daniel Zhang?
Ma's replacement Daniel Zhang (his Chinese name is Zhang Yong), has been part of the Alibaba hierarchy since 2007, when he was named chief financial officer of Taobao Marketplace after working for PwC and gaming company Shanda.
A finance graduate from Shanghai University of Finance and Economics, the 46-year-old's number-crunching background and reputation as a quieter personality than Ma could see a change in Alibaba's overall leadership style.
Zhang has been credited with leading the company's annual Singles Day shopping extravaganza, which last year saw Alibaba sell 38 billion US dollars' worth of goods, as well as focusing on data analysis to maximize profits.
Zhang also led the company's headline-grabbing deal with Starbucks earlier this year.
Zhang told CNBC earlier this month "if you're going to win a race, it's more important to buy a horse than just bet on it," reflecting Alibaba's merger and acquisition strategy in recent years which has seen it take over or take major stakes in Didi Chuxing, Youku and China Unicom.
Zhang also has the firm backing of not only Ma, who promised to "work closely with Daniel to ensure a smooth and successful transition," but also other senior figures in the Alibaba hierarchy. According to the Financial Times, the company's executive vice-chairman Joseph Tsai said Zhang is "capable...very creative and has big vision."