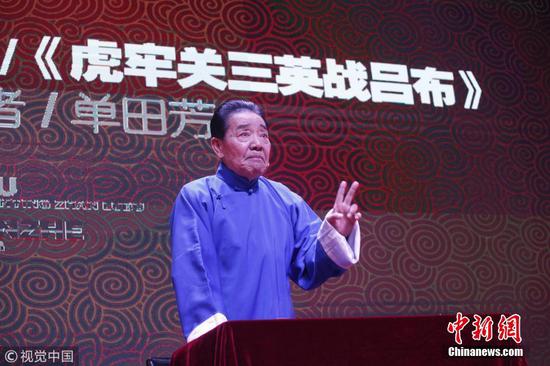 Pingshu master Shan Tianfang. (File photo/VCG)
Shan Tianfang, who was universally considered to be the "godfather" of Pingshu performance – a traditional Chinese art form of storytelling, died after a long battle with illness on Tuesday, September 11.
Shan, a household name in China especially during the golden era of radio, was 84.
According to Xiao Jianlu, general manager of Shan Jianfang Culture Communication Co., Ltd, the great master of Pingshu performance died at 3:30 p.m. at the China-Japan Friendship Hospital in Beijing.
Shan Tianfang, the great master of Pingshu storytelling performance, takes a photo during a magazine interview in Beijing, February 20, 2011. /VCG Photo
Born in 1935 in Yingkou City, northeast China's Liaoning Province, Shan started his career as a Pingshu performer at the age of 14 and then established himself as one of the premier Pingshu artists.
Different from other performing arts such as cross-talk, Pingshu, or "storytelling" in Chinese, is a one-person performance that was extremely popular in the 1980s.
The storyteller, wearing traditional gowns and standing behind a table, individually performs the entire story – embodying all of its characters – with nothing but a fan and gavel in hand. The performer uses the latter prop to strike the table as a warning to the audience to be quiet at the beginning or during intervals, as well as a means of attracting attention during an important part of the tale.
Most of the stories originate and are adapted from ancient Chinese history. Pingshu performers usually add their unique commentaries to the storyline in the course of storytelling.
As a traditional form of entertainment, Pingshu enjoys considerable mass appeal, especially in north and northeast China. In 2008, Beijing Pingshu performance was inscribed on the second batch of The National List of Intangible Cultural Heritage of China.
Shan was then officially announced as the inheritor of this national intangible cultural heritage and is widely regarded as one of the four most renowned Pingshu artists in the country, with the others being Yuan Kuocheng (1929-2015), Liu Lanfang, and Tian Lianyuan.
Best known for his excellent language skills, Shan is a master hand in presenting the abstract and vivid parts of stories, such as images, colors, and emotions with plain and detailed description, making vivid sounds as well as adjusting his own voice, making his storytelling style accessible and attractive.
Chinese audiences are familiar with his massive representative works including "The White-Eyebrow Hero," "The Romance of Sui and Tang Dynasty," "Heroes in a Troubled Time," and "Three Heroes and Five Gallants," on which he put his distinctive signature.
Throughout his over-60-year career, Shan has told more than 100 stories appealing to millions of households, with each story comprised of thousands or hundreds of episodes, in which he has portrayed countless figures from Chinese classics. He has helped audiences feel trust, love, hatred, fear and hope using simply his voice.
As he put it, "Pingshu performance is not only my job but also a requisite part of my life." Shan devoted his whole life to the seemingly ordinary act of telling stories. This simple act, however, created an extraordinary cultural legacy embraced by generations of Chinese audiences.
Shan's funeral arrangements will be announced in the coming days.