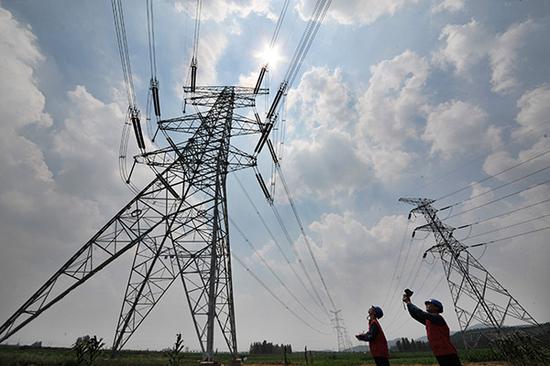 State Grid engineers inspect a power distribution tower in Zaozhuang, Shandong Province. (Photo provided to China Daily)
Electricity generated from new energy sources by China's two major utilities, State Grid Corporation of China and China Southern Power Grid Company Ltd, surged during the January-May period.
The surge is in line with China's efforts to reconstitute its overall energy mix.
State Grid, China's main power supplier that runs the majority of the nation's electricity distribution networks, saw its new-energy power generation reach 187.1 billion kilowatt-hour during the first five months of this year, a year-on-year increase of 41 percent.
It accounts for 9 percent of the company's total power generated, up 2.1 percentage points compared with the same period last year, said the Beijing-based company.
Guangzhou-based China Southern Power Grid Company Limited also reported an increase of new-energy power generation to 30.6 billion kWh during the same period, which accounts for 6.8 percent of the company's total power generation.
Analysts believed the increase in new-energy power generation in China will continue to rise as China is determined to move away from coal and other fossil fuels to address the problem of air pollution.
Joseph Jacobelli, a senior analyst tracking Asia utilities at Bloomberg Intelligence, believed that despite the fact that clean energy won't completely replace coal-fired power generation at least for the next 30 years, the share of clean energy generation in the overall electricity mix will increase steadily.
"We see clean generation accounts for a much larger proportion of the country's newly installed capacity already, compared with that of the coal-fired ones," he said.
To reduce greenhouse gas emissions and tackle air pollution, China has been trying to use more renewable energy.
The country set up two power exchange centers in 2016 in Beijing and Guangzhou, where major power generators can publish their supply and price on the platform to further encourage clean energy power generation and consumption.
The Beijing Power Exchange Center vows to replace 21.1 billion kWh of thermal power generation with clean energy in 2018, a year-on-year increase of 54 percent.
So far, it has replaced 14.4 billion kWh of thermal power generation, the BPEC said.
It also said it aims to increase the capacity of clean energy transmission in China's southwestern regions to further promote the distribution of clean energy, as part of its efforts to restructure energy consumption in the country.
Given its electricity distribution networks nationwide, the BPEC witnessed clean energy power generation transition between provinces reaching 143.1 billion kWh between January and May, a year-on-year increase of 12.3 percent, and 40.4 percent of the total power generation transition between provinces.