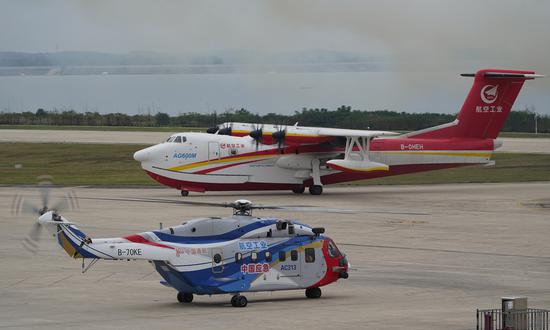 An AG600M amphibious firefighter aircraft and an AC313 firefighter helicopter prepare for takeoff at a comprehensive emergency rescue aviation exercise held in Jingmen, Central China's Hubei Province, on October 27, 2023. (Photo/Courtesy of Tan Yuqiang)
China recently organized the country's largest comprehensive emergency rescue aviation exercise, demonstrating the systematic achievements in its independent aviation emergency rescue equipment field in recent years and verifying the results of tactics research, scientific innovation, equipment development and actual application.
Organized by the state-owned Aviation Industry Corporation of China (AVIC), the exercise was held in Jingmen, Central China's Hubei Province, on Friday and involved training courses including disaster reconnaissance, situation monitoring, relay communication, precise firefighting and medical rescue.
A Wing Loong-1E drone, equipped with high-definition optoelectronic reconnaissance equipment, multi-function radar and emergency communication support pods began to hover in the mission area after taking off from Zhanghe Airport after thick smoke began rising from a simulated fire scene.
The drone transmitted real-time images of the area, providing strong support for the on-site command post. Then it acted as an airborne base station, continuously restoring mobile public network signals that were disrupted by the fire.
Then, two AG600M firefighter aircraft, an MA60 firefighter aircraft and an AC313 firefighter helicopter successively carried out a total of eight water-dropping firefighting missions, dropping a total of 70 tons of water through various means to put out the fire.
"In recent years, major forest fires have occurred frequently in various places, and the country's demand for major aviation emergency rescue equipment has become more urgent. We are accelerating the development of the AG600M firefighter aircraft. The aircraft is now ready to carry out fire extinguishing tasks," Zhao Yuhe, a deputy general manager of AVIC General Huanan Aircraft Industry Co Ltd, told the Global Times at the exercise.
As the main force of this drill, the AG600M has a maximum takeoff weight of 60 tons, and can quickly draw 12 tons of water in 20 seconds during high-speed taxiing on a water surface, Zhao said.
The 12 tons of water can be released upon fire in just four seconds.
"The AG600M has completed a total of 61 flights, lasting a total of 88 hours, carrying out various combinations of different water dropping methods, different amounts, different angles, different heights and different speeds. It dropped water 139 times in total. The maximum coverage area of a single drop exceeds 4,000 square meters,"Zhao said, noting that the aircraft has fully verified its capabilities in typical mission scenarios over areas such as plains, hills and plateaus.
The AG600's performance is superior to international mainstream firefighter aircraft, such as Russia's Be200 and US' C130, Zhao said.
In addition to firefighting, the AG600M is also capable of completing medium- and long-range maritime aviation rescue missions after being customized with related systems, Huang Lingcai, the chief designer of the AG600 aircraft and chief engineer at AVIC General Huanan Aircraft Industry Co Ltd, told the Global Times.
It can also develop a variety of special uses, including island-and-reef transportation, maritime law enforcement and rights protection as well as marine environment monitoring, Huang said.
Zhao Sheng, the captain of the AG600M aircraft during the drills, told the Global Times that flying the AG600M under such realistic conditions was a very special experience.
He said that he has flown many types of aircraft, many of which have made corresponding contributions to China's aviation technology and national economic development, but the AG600M is an aircraft dedicated to saving people's lives, and this mission made the crew members feel a sense of responsibility, duty and accomplishment.
"As a pilot, our usual flight missions often involve flying a single aircraft, and there are fewer cases of multi-aircraft joint flights, so this exercise fully demonstrates the role of modern aviation equipment in emergency rescue," Zhao said.
A total of eight aircraft across seven types participated in the drill, including the AG600M large amphibious aircraft, the MA60 fixed-wing aircraft, the AC313, AC312 and AC311A helicopters, the Wing Loong-1E drone and the AR500 unmanned helicopter.
The coordination of fixed-wing aircraft and helicopters, manned and unmanned aircraft, and aerial firefighting and ground firefighting forces was a major feature of this drill. The systematic development of aviation emergency rescue equipment is also a unique highlight and advantage of China's emergency rescue system, observers pointed out.
Crew members also said that the domestically developed aircraft that participated in the exercise were excellent in performance and in good condition. With different types clearly designated for different jobs, they responded rapidly, coordinated perfectly and achieved timely and precise rescues.
China plans to develop more aviation equipment for emergency rescue to better suit the country's development needs and the exercise will provide a basis to establish a standard method for forest firefighting and training system, it was revealed at the exercise.