(ECNS) -- Flying Tigers veteran Harry Moyer, who will turn 103 on Monday, visited the Badaling Great Wall in Beijing on Sunday.
Wearing a yellow hat and a jasper Flying Tigers jacket, the veteran looked vigorous. He walked from the foot of the mountain all the way up and had a photo taken beside the landmark stone stele with the Chinese characters "He who never reached the great wall is not a true man."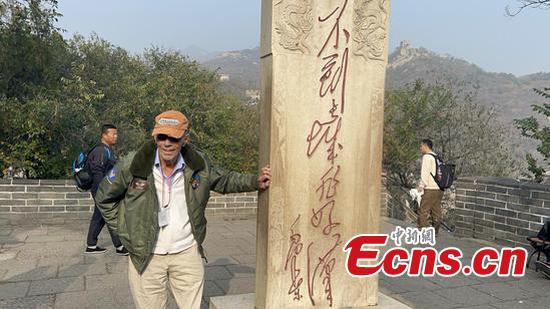 Harry Moyer poses for a photo beside
the landmark stone stele on the Great Wall in Beijing, Oct. 29, 2023. (Photo: China News Service)
The American Volunteer Group of the Chinese Air Force, more widely known as the "Flying Tigers", was formed in 1941 by U.S. General Claire Lee Chennault.
Moyer joined the U.S. Army Air Corps in 1942 and fought throughout World War II.
Moyer's squadron joined the 23rd Fighter Group of the 14th Air Force in China in 1944 and was primarily responsible for protecting Chinese airfields and the B-29 bombers stationed there tasked with counter-attacks on Japan.
The Flying Tigers shot down more than 2,600 enemy planes during the fight against the invading Japanese troops in World War II.
In 2020, Moyer celebrated his centennial birthday by taking a solo flight in his Mooney MK21 plane.
Moyer arrived in Shanghai on Saturday and will visit Liuzhou of Guangxi Zhuang Autonomous Region and Kuming in Yunnan Province in the following days.