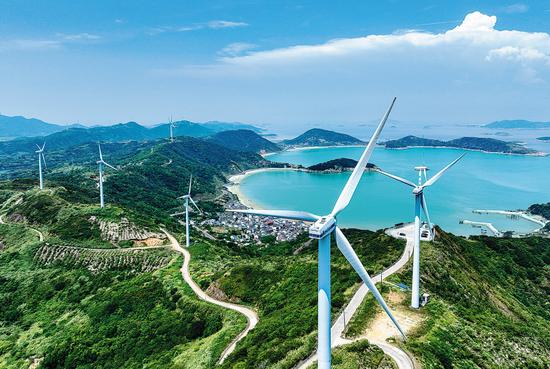 A wind farm generates power for grids in Zhoushan, Zhejiang province. (Photo by YAO FENG/FOR CHINA DAILY)
The Ministry of Ecology and Environment has made significant progress toward relaunching the China Certified Emission Reduction program, a voluntary mechanism that will allow participants to earn and trade carbon credits.
On Tuesday, the ministry publicized the methodologies that will be used to quantify net emission reductions or removals for four types of projects: forestation, solar thermal power, offshore wind power generation and mangrove revegetation.
Four days earlier, it unveiled a regulation on CCER trading for trial implementation, vowing to gradually expand the number of sectors covered by the mechanism.
Industry insiders said the publication of the regulation, a key document for the mechanism's operation, meant the program might be relaunched soon.
Ministry of Ecology and Environment spokesman Liu Youbin said in June that the ministry would strive to relaunch the CCER program as soon as possible this year, adding that the infrastructure required had essentially been completed.
The CCER program would be a useful complement to China's carbon trading market — the world's largest — said Wang Weiquan, deputy secretary-general of the Chinese Renewable Energy Industries Association.
Before it was suspended, the mechanism featured over 200 methodologies. With just four publicized so far, ahead of its relaunch, Wang said that meant the ministry was screening out project types with poor economic returns.
The program was suspended in 2017 by the National Development and Reform Commission, only five years after its launch in 2012.
The country's top economic planner closed it down due to its low trading volume and the need to standardize its operation.