(ECNS) -- Leveraging the momentum presented by the Asian Games and Asian Para Games in Hangzhou City in Zhejiang Province has integrated green and zero-waste concepts into urban development.
A monitoring and tracing system follows the carbon footprint of the power supply for Asian Games and Para Games venues, providing a reliable transmission pathway for the realization of zero-carbon initiatives at physical level.
Supported by State Grid Zhejiang Electric Power Company, the system has created an electricity carbon profile, which could trace the electricity consumption of 55 competition venues and six Asian Para Games Villages in Hangzhou and enable venues to engage in green energy transactions, totaling 6.21 billion kilowatt-hours.
In a park, road signs are crafted from used milk cartons, garbage sorting bins stand ready, a celestial Van Gogh-inspired collage is artfully upheld by repurposed plastic bottles, and various scenic installations creatively incorporate recycled stainless steel and plastic bottles.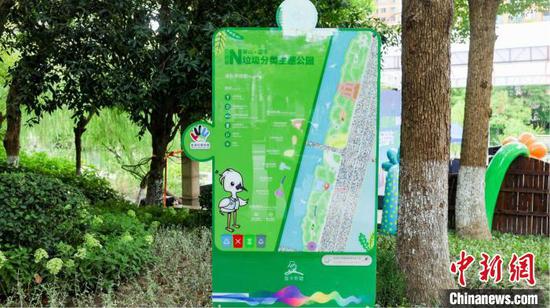 A board made from used milk cartons is seen at a park in Hangzhou, Zhejiang Province. (Photo provided to China News Service)
He Ye, secretary-general of a committee dedicated to recycling and utilizing paper-composite packaging, estimates that recycling and processing one ton of used milk cartons leads to a reduction of approximately 1.17 tons of carbon emissions.
According to He, each park signpost was crafted from 20,000 used milk cartons, each information sign for flowers and plants from 750, and each set of garbage-sorting bins from 5,100.
A total of 33 venues, 81 restaurants, and four factories have implemented the zero-waste concept.
Estimations show that at least 50 percent of event-related materials were recycled during the Hangzhou Asian Games and Para Games.
These products are breathing new life into used milk cartons, further promoting a lifestyle that is both low in carbon emissions and energy-efficient while exemplifying Hangzhou's aspiration to become a zero-waste city.
"The Hangzhou Asian Para Games demonstrate the principles of green development and innovation. I believe the athletes will have a wonderful experience and enjoy the sports here," said Sharjah Tuan, track and field coach of the UAE Sports Delegation.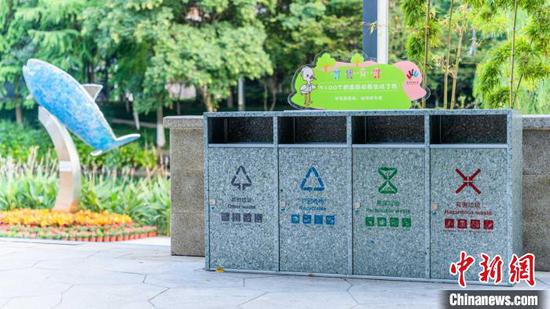 Garbage sorting bins made from used milk cartons are seen
in Hangzhou, Zhejiang Province. (Photo provided to China News Service)