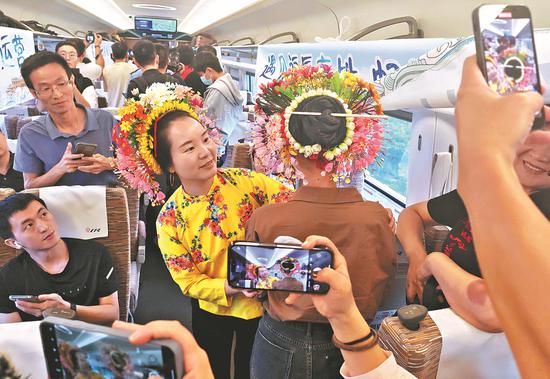 A passenger boards a Fuzhou-Xiamen high-speed railway train on Thursday, wearing floral headwear for an intangible cultural heritage promotional event. Wearing floral headwear is a custom of women from Xunpu, a fishing village in Quanzhou, Fujian province. Thursday was the first day of the high-speed railway's operations. (Photo/China Daily)
China's first cross-sea high-speed railway started operations in Fujian province on Thursday, marking another milestone in the country's rail network development.
At 9:15 am, 543 passengers boarded Fuxing bullet train G9801 at Fuzhou South Railway Station in the province's capital Fuzhou and arrived at Xiamen North Railway Station at 10:16 am.
Chen Xianjun paid 126 yuan ($17.2) for a second-class seat on the train, saying that he was excited to be one of the first passengers to take the high-speed service after following updates on its development for years. "It will be very convenient to travel between Fuzhou and Xiamen," said Chen.
The train, with a designed maximum speed of 350 kilometers per hour, stopped in five cities in Fujian, passing mountains, gulfs and cross-sea bridges along a length of 277.4 km. The project is regarded as a major breakthrough in rail traffic above the sea, and will boost tourism, the regional economy and the high-quality development of China's transport industry, experts said.
In the initial stages of the railway's operations, there will be 16 train trips a day. This will increase to 124 a day in the fourth quarter of the year, said Yang Bin, deputy director of the passenger transport department of China Railway Nanchang Group.
"The railway can link Fuzhou and Xiamen in just 55 minutes at the fastest speed, to include residents in both cities in a 'one-hour living circle'," he said. The previous fastest train took 1 hour and 20 minutes to make the journey.
Fuzhou and the economically dynamic and popular tourist destination of Xiamen play important roles in the socioeconomic development of Fujian. The railway is expected to benefit 30 million people.
Liang Po-hsiang, a passenger from Taiwan, said the service is faster than other bullet trains and pays great attention to details. Each seat has a USB interface to charge a phone, which is "quite convenient", he said.
Liang runs a new media business in Fuzhou and is involved in activities related to cross-Strait exchanges. "Many netizens hope that we can take high-speed trains to Taiwan by 2035. I wish it could become true," he added.
Earlier this month, Fujian was designated a demonstration zone for cross-Strait integrated development by the central government to promote exchanges with Taiwan.
The fastest cross-sea railway along the west coast of the Taiwan Strait, it has a sea view along 19.9 km of its tracks.
Che Yanxue, a conductor, said the train uses advanced technology to reduce noise and shaking, so passengers feel more comfortable.
"The first-class seats can be adjusted automatically. The business seats offer wireless charging devices and intelligent touch-screen terminals for entertainment. The No 4 carriage has Braille for passengers in need," she said.