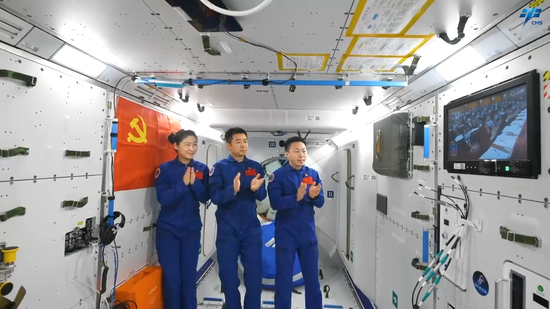 Shenzhou XIV taikonauts Chen Dong (center), Liu Yang (left) and Cai Xuzhe applaud while watching the live broadcast of the opening of the 20th National Congress of the Communist Party of China, Oct 16, 2022. (Photo/China Manned Space Agency)
Special: 20th CPC National Congress
The Shenzhou XIV crew currently stationed in China's space station watched the live broadcast of the opening of the 20th National Congress of the Communist Party of China and applauded for the country's ambitious space outlook.
The Shenzhou XIV mission commander Chen Dong said the crew in the space station about 400 kilometers from the surface watched the live broadcast of the opening and they were very excited and felt inspired.
The female taikonaut Liu Yang commented that when she heard about China's space exploration plan in the report, she felt inspired and was more proud of their mission in the space station.
Cai Xuzhe said the Mengtian lab will soon be launched into space and they would stay true to their mission, taking careful operation and cooperating with each other to resolutely complete building the space station.