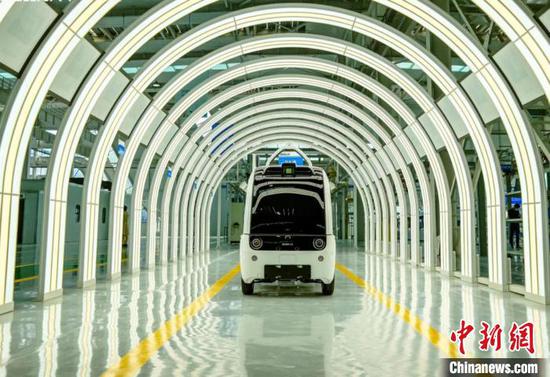 Photo shows the unmanned delivery vehicle Neolix. (Photo/China News Service)
(ECNS) -- The first autonomous delivery vehicle made by central China's Henan rolled off the production line in Anyang, northern Henan on Monday. It is now ready for mass production after debugging, with a production capacity of 10,000 annually.
This autonomous delivery vehicle named Neolix is one meter wide, very agile, and capable of coping with complicated traffic situations.
Neolix was tested in the scenic area of Yinxu in Anyang during the last National Day holiday. Tourists can wave it down to buy drinks and snacks and pay through scanning QR codes.
According to Zuo Zan, a person in charge of the Anyang branch of Neolix Company, the autonomous delivery vehicle is equipped with multiple sensors like lidar, ultrasound and a camera, which can accurately sense obstacles.
Its intelligent vending system will allocate supplies and analyze customer purchasing habits according to real-time sales data to realize intelligent management and allocation.
As of July 2022, the autonomous delivery vehicle has been put to use in many fields including logistics, retail, city service, and pandemic prevention and control.
For example, more than 160 vehicles were arranged to support COVID-19 supplies delivery in hospitals and communities in Shanghai during the city's pandemic wave a few months ago.
And over 1,000 autonomous delivery vehicles produced by Neolix have been delivered and deployed around the world, covering more than 100 scenes in 40 cities of 13 countries, with a safe driving mileage exceeding two million kilometers.