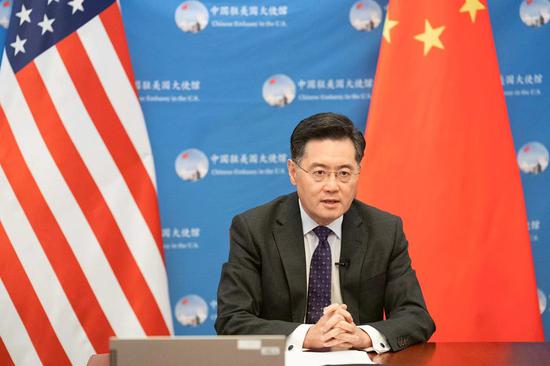 File photo of Qin Gang. (Photo provided to chinadaily.com.cn)
Qin Gang, China's current ambassador to the United States and now newly named foreign minister, said China is committed to its foreign policy goals of upholding world peace and promoting common development, while remaining dedicated to building a community with a shared future for mankind.
The Standing Committee of the 13th National People's Congress, China's top legislature, adopted a decision on Friday to remove Wang Yi from the post of foreign minister and appoint Qin to the position.
Wang, a member of the Political Bureau of the Communist Party of China Central Committee, has served as foreign minister since 2013. He is also a State Councilor.
Qin, 56, is the third Chinese ambassador to the U.S. to lead the Ministry of Foreign Affairs, following Li Zhaoxing and Yang Jiechi, who assumed the ambassadorial post in Washington in 1998 and 2001, respectively.
In his first comments as foreign minister, Qin noted China's diplomacy stays committed to peace, development, cooperation, and delivering mutual benefit, and will press for a new model of international relations based on mutual respect, fairness, justice and win-win cooperation.
In solving challenges common to all of mankind, China's diplomacy will offer "Chinese wisdom, Chinese initiatives and Chinese strength," Qin said in a statement posted on the ministry's website.
Qin began to serve as China's 11th ambassador to the U.S. in July last year, vowing to "build bridges of communication and cooperation with all sectors of the United States" and endeavor to bring China-U.S. relations back on track.
He has pointed out that misunderstandings have dire consequences to bilateral relations, which have already plummeted to the lowest level in decades.
For example, in a speech at the Asia Society Texas Center in June, Qin noted that the core message of U.S. Secretary Antony Blinken's China policy speech in May is that the United States will harness its national strengths to conduct comprehensive and intense strategic competition with China.
The speech shows America's serious misunderstanding and misjudgment of the time and of China, and highlights the two countries' differences on some major issues. 
Now as China's foreign minister, Qin is expected to meet with Blinken during his China visit, which will take place in early 2023.
In a talk in early December, the ambassador again pointed out that "out of grave strategic misperception and misjudgment", some people see China as "the most serious competitor" and "the most consequential long-term geopolitical challenge," and outcompeting China has become the purpose of all the China policies of the U.S..
Consequently, the notion of national security has been over-stretched, economic and trade issues are politicized and weaponized, export controls, import restrictions, harsher investment reviews are imposed, as well as measures in tech decoupling, sectoral regulation and industrial subsidies, Qin said.
"We should not let national security stand in the way of economic development and the improvement of people's lives in both countries," he said.
Qin has travelled extensively, including a trip to U.S. heartland states of Illinois, Iowa and Minnesota, and visits to the Port of Boston, the Detroit auto show and even to a suburban farm in St Louis, Missouri.
He once told the U.S. business community, "I would love to talk to you, and be a good listener and helper to you, so that we can uphold and promote the common interests of China and the U.S.."
The U.S.-China Business Council, which represents more than 280 U.S. companies doing business with China, recognized Qin as Distinguished Honoree for his efforts over the past year and a half to stabilize relations.
"I believe none of us wants to see global warming. But all of us want to see a warming of China-U.S. cooperation," Qin said at the USCBC 2022 Gala on Dec 6, to the applause of the packed hall of audience.
As is widely expected, dealing with the China-U.S. relations, the most important bilateral relations in the world, will remain a priority for the new foreign minister.
Qin seems to have taken a pragmatic attitude toward the differences between China and the United States—in history, culture, social system, and development path, saying that the differences will most probably remain in 100 years.
"But as residents of the same world, we should and can listen to each other, narrow our gap in perceptions of the world, and explore a way to get along based on mutual respect, peaceful coexistence, and win-win cooperation," he wrote in an article published on The National Interest on Dec 26, a theme that he revisited days later in his first comments as foreign minister.